Scholars who come to William S. Boyd School of Law and the donors who support them, each bring a valuable gift.

The scholars: a passion for law, a thirst for knowledge, a special ability, a genius.

The donors: something given voluntarily, a benefaction, a legacy, an endowment.

It is together, through this exchange of gifts, that they redefine possibility and commit to forever changing our society for the better.
Why Give?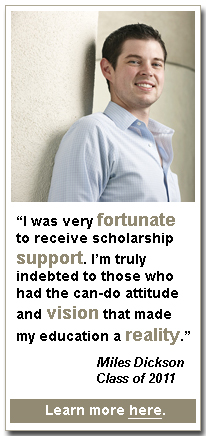 Thank you for considering making a gift to the William S. Boyd School of Law. Like many state-assisted universities and colleges, the Boyd School of Law depends on private funds to support educational activities and programs. Endowed professorships, student scholarships, law library moot court programs, clinics, the Lawyering Process Program, and the Saltman Center for Conflict Resolution are just some of the areas that benefit greatly from generous gifts given to the school by alumni, friends and faculty.
Where to Give?
Wherever your passion and your interest may be, we are happy to create unique opportunities to ensure that your monies are directed to an area of preference. Some of our most popular designations are:
Annual Fund
Alumni Giving
Scholarships
Lecture Series
Ralph Denton Professorship
How to Give?
Gifts to the Boyd School of Law can be made at a number of levels, and every gift - large or modest - supports our mission and is sincerely appreciated.
Making a gift by credit card is easy, safe and secure. Make a gift online here.
Making a gift by check is simple. Please make your check payable to "UNLV Foundation - Law" and mail it to:
William S. Boyd School of Law
ATTN: Layke Martin
4505 S. Maryland Parkway
Box 451003
Las Vegas, Nevada 89154-1003
Making a matching gift is a wonderful way to maximize your gift. If your company supports a matching gift program, please include your company's matching gift form with your contribution.
If you are considering making a major gift or contributing via other gift vehicles – such as securities, property, and planned gifts – or for further information about current campaigns or making a gift to the law school, please contact:

Layke Martin, Esq.
Assistant Dean for External Relations
UNLV William S. Boyd School of Law
4505 S. Maryland Parkway
Box 451003
Las Vegas, Nevada 89154-1003
(702) 895-2425
Fax (702) 895-2414
layke.martin@unlv.edu