Ruben J. Garcia
Professor of Law
Phone: 702-895-4990
Education:
A.B. with Honors, Stanford University
J. D., UCLA School of Law
LL.M., University of Wisconsin Law School
Ruben J. Garcia is Professor of Law at the University of Nevada, Las Vegas, William S. Boyd School of Law. Prior to joining the UNLV faculty in 2011, he was Professor of Law and Director of the Labor and Employment Law Program at California Western School of Law in San Diego, where he taught for eight years. He also has held academic appointments at the University of California, Davis School of Law, the University of Wisconsin Law School, and at the University of California, San Diego. Before beginning his teaching career in 2000, Garcia worked as an attorney for public and private sector labor unions and employees in the Los Angeles area. His scholarship has appeared in a number of leading law reviews, including the Hastings Law Journal, the University of Chicago Legal Forum and the Florida State University Law Review, among others. His first book, published by New York University Press in 2012, is entitled Marginal Workers: How Legal Fault Lines Divide Workers and Leave Them Without Protection. He currently serves on the boards of the ACLU of Nevada and the Society of American Law Teachers (SALT).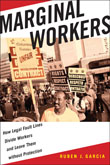 Marginal Workers
How Legal Fault Lines Divide Workers and
Leave Them without Protection
Areas of Expertise
Labor Law
Employment Discrimination Law
Employment
Constitutional Law
Law and Society
Law and Social Change
First Amendment
Immigration Policy
International Human Rights Law
Professional Ethics
Critical Race Theory/LatCrit Theory
Faculty In the Media