PILA Raises $22,000 Through "Make A Date With PILA" Auction
The Public Interest Law Association (PILA) held its 13th annual fundraiser auction on February 10.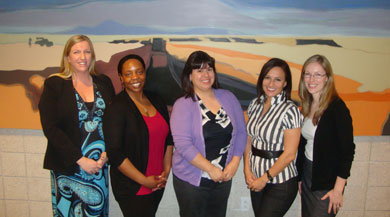 PILA's executive board members were key contributors to the preparation for the "Make a Date with PILA" auction. From left, Laura Jennings, Brittnie Watkins, Jessica Perlick, Marisa Rodriguez-Shapoval, and Shannon Phenix (Not Pictured: Cayla Witty and Nick Donath).
The event raised more than $22,000 and more than 300 people attended the event.
All of the money raised will help to fund grants for public sector summer internships.
The auction was held at the Fremont Hotel & Casino.
Also at the event, PILA named Barbara Buckley as the 2012 Silver Staircase Honoree. She helped establish the new Civil Law Self-Help Center at the Regional Justice Center in here time as Executive Director of the Legal Aid Center of Southern Nevada. More than 31,000 people have received help in its first year of existence.
Shannon Phenix, PILA president, said the event has had great success in the past.
"Two years ago there was a high turnout and a lot of money was raised," she said. "Last year, there was a bit of a lull, but it was still a really strong event."
The total for this year is an increase from the $14,000 they raised last year. Marisa Rodriguez-Shapoval, PILA VP in charge of the auction, said that there were a lot of auction items available, ranging from Starbucks gift certificates to an $800 getaway at the MGM.
PILA is a non-profit student organization that works to get students interested in public interest work. Phenix said her goal is that by being involved in the organization, students will become interested in pro bono work.
"As an organization, we want to get students involved in different community activities, and then actually get them thinking how they will incorporate pro bono into their work," she said.
To view more photos from the event, visit the law school's Facebook page at www.facebook.com/UNLVLaw and click on the photo album for the 2012 PILA auction.