Youth Symposium at Boyd Looks to "Bridge" Leadership Gap in Asian American Culture
Bamboo Bridges is working with the UNLV William S. Boyd School of Law for their youth leadership symposium.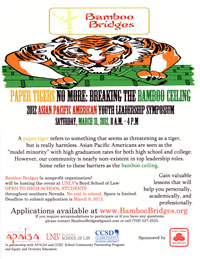 "Paper Tigers No More: Breaking the Bamboo Ceiling" will be held on March 31 at the Thomas & Mack Moot Court facility.
This is the second Bamboo Bridges event being held on the UNLV campus, and this year's edition will be co-sponsored by Boyd's Asian Pacific American Law Student Association (APALSA).
"Last year [Bamboo Bridges] organized with an undergraduate group – Raising Our Asian Rights (ROAR) – and this will be the second year, and they are trying to make this an annual thing," said Elenis Wong, president of APALSA. "We're here to help facilitate the event and help Bamboo Bridges in any way that we can."
The event drew between 50-60 people during its first year and hopes for between 80-90 people this year.
This year's theme of "Paper Tigers No More: Breaking the Bamboo Ceiling" is geared toward high school students and is a chance for Asian and Pacific Americans to see that positions of leadership are a valid option.
Wong said that the culture of many Asian and Pacific American households requires the children to be more subdued, which makes advancing in the business world and adjusting to professional society more difficult.
"We believe in starting with the young, especially here in Las Vegas," said Maricar Andrade '07, attorney at Andrade & Magaña Law Group and member of Bamboo Bridges. "The idea is although Asian-Pacific Americans have some of the highest graduation rates, they're not in leadership roles. It's good for the kids to see role models."
The event will feature a panel of five speakers consisting of two police officers, a dentist, a florist and a criminal law attorney who can speak to the experiences of Asian-Pacific Americans. Additionally, there will be other speakers who will be addressing college life, Howard Gardner's multiple intelligence theory, etc.
The event is free and open to high school students across Clark County.
Besides Andrade, Kathleen Bergquist '09 and Barbara McDonald '09 will be other Boyd alumni working with Bamboo Bridges on this symposium.
Other students at Boyd will also be involved: David Wu, who is also in APALSA, as well as 1L students Ivy Hensel, Michelle Nisce and Lindsey Peña.
Bamboo Bridges is a Las Vegas-based legal group that serves the Asian and Pacific American female demographic. Besides this event, the group takes on issues like domestic violence awareness and human trafficking.
Boyd School of Law will also be holding a human trafficking symposium on April 21. Information for that event can be found at http://law.unlv.edu/humantraffickingsymposium.