Edwin Black Presents "The Case Against IBM for its Role in the Holocaust—What the New Documentation Shows"
Location:
Thomas and Mack Moot Court Facility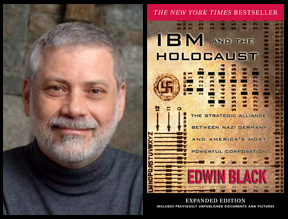 The William S. Boyd School of Law and the Jewish Federation of Las Vegas will host "The Case Against IBM for its Role in the Holocaust—What the New Documentation Shows," presented by The New York Times Best Selling author Edwin Black. A reception in the Wiener-Rogers Law Library will follow the presentation.
Tuesday, Nov. 13, 2012
4:00 p.m.
Thomas & Mack Moot Court Facility
Free and open to the public; no RSVP required.
The award-winning bestseller by Edwin Black, IBM and the Holocaust, documents how IBM consciously co-planned and co-organized all six phases of the Holocaust: identification, exclusion, confiscation, ghettoization, deportation, and extermination. The newly Expanded Edition, which offers 32 pages of photographic and document evidence, says the 12-year alliance was micromanaged by IBM president Thomas J. Watson from New York headquarters through overseas subsidiaries in Germany, Poland, Holland, and elsewhere in Europe. Learn more at www.ibmandtheholocaust.com.
"EXPLOSIVE AND STUNNING. An explosive book... Backed by exhaustive research, Black's case is simple and stunning: that IBM facilitated the identification and roundup of millions of Jews during the 12 years of the Third Reich ... Black's evidence may be the most damning to appear yet against a purported corporate accomplice."
- Michael Hirsh, Newsweek
This event is co-sponsored by the UNLV College of Liberal Arts, the UNLV History Department, Phi Alpha Theta Psi Sigma, the UNLV Department of Communication Studies, American Association of Jewish Lawyers and Jurists, Scholars for Peace in the Middle East, State of California Center for the Study of the Holocaust, Jewish Virtual Library, The Auto Channel, History Network News, and Spero Forum with the participation of Temple Beth Sholom.
Flyer:
//php print $links; ?>