Balancing Law School, Work, and Life Not a Problem for Olympic Gymnast
This article is part of a series featuring the entering class of 2012.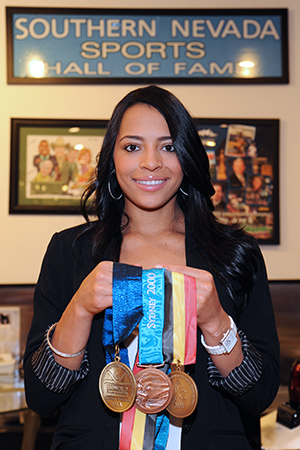 The UNLV William S. Boyd School of Law has drawn an exceptional pool of students this year, one of which has an Olympic background.
First-year student and gymnast Tasha Schwikert competed in the 2000 Olympic Games in Sydney. She and her teammates won a bronze medal in the team competition.
"Competing in the Olympics was one of the most amazing experiences of my life," Schwikert said. "Being able to represent my country was definitely a dream come true for me."
Schwikert, a Las Vegas native, entered the part-time day program at Boyd in Fall 2012. She said she has wanted to go to law school for some time.
"Law school isn't something that I've wanted to do my whole life, but over the years, I've known a lot of people who have studied law," she said. "A few years ago, I knew I wanted to go to law school."
When she decided to go, Boyd was one of her top options.
"My family is here, and [the school] also has a great law program," she said. "I have the opportunity to graduate and be a part of the legal community in the state."
Besides her Olympic medal, Schwikert holds two all-around U.S. Gymnastics titles (2001 and 2002) and was part of the 2003 team that won at the World Championships.
Being on the Olympic team put Schwikert in the public eye for a long time, but she kept up with her studies and was accepted to UCLA for undergraduate school.
She acknowledged that transitioning from a notable athlete into a full-time student was tough, but being able to compete as a gymnast in college helped her.
"The years at UCLA helped me transition out of athletics and into academics," she said. "I guess it takes a multi-faceted person to make the switch from athletics to academics."
Schwikert already has career goals in mind for after law school.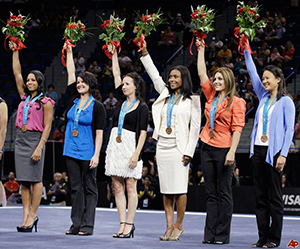 "My aspirations are to work with a really good law firm in the field of either entertainment or sports and entertainment," she said. "I've been interested in the law, and I think having the law degree helps put me over the top so that I can continue to help female athletes."
Schwikert already gets to help in a different capacity, working with Wasserman Media Group, a consulting firm and athletic agency. Currently, one of her most notable clients is gymnast and Olympic gold medalist Jordyn Wieber.
"I am fielding all her requests, and my boss and I work on her account… but I'm also looking for ways to build her brand," she said, adding that her Olympic experience has helped her in working with Wieber. "As an agent, securing media for a client is one thing, but being able to put yourself in the client's shoes is very helpful. I start to think, 'If I was her, would I like this?' and it makes things easier."
All of these tasks have taken up quite a bit of her schedule, she said.
"I'm not going to say it's been easy," Schwikert said. "There have been lots of moving parts, but I have been able to stay above water."
She added that balancing a busy schedule is something that she is used to.
"I already had a modified school schedule [when I trained for the Olympics], but when the Olympics and World Championships are in your plans, you do what you need to do."
She said that her first few weeks at Boyd have been what she was hoping for.
"I love my classes, I am enjoying the reading and classwork, and I love my professors," she said. "At Boyd, you really feel that the professors want to do anything they can to help you succeed."
Read another entering class of 2012 profile: From Rodeo Queen to Law Student: First-year Law Student is About Education