Strasser Mediation Clinic Sees Early Success in Fall 2012 Semester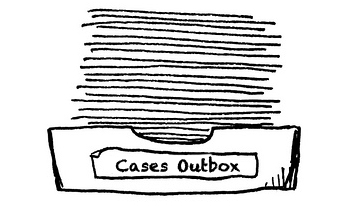 The UNLV William S. Boyd School of Law's students have ample opportunity to put the skills they learn in class into practice. The Strasser Mediation Clinic is one of those opportunities.
The clinic has already found great success this semester, as the students and staff involved successfully mediated every case in the first week of the semester that was assigned to them. This accomplishment was a first for the Strasser Mediation Clinic.
The clinic saw three cases – two divorces and a business dispute – all executed to an agreement. Ray Patterson, who helped co-mediate alongside the students, said the success can be attributed to multiple factors.
"I think we lucked out to a certain extent in that in all three cases, both sides had at least a small desire to come to an agreement, but it really helps to have a group of students who take to this process," he said.
Law student Jeanette Barrick worked on one of the divorces where the dividing of debts and child support were key issues. She said that one of the most important things she wanted the couple to keep in mind was that they wanted to succeed before having to go to court.
"It seems to be important to remind the parties that if they don't settle the issues and the court has to make the decision, they will lose control," she said. "Without telling them what would happen, we were able to let them know that they could make whatever agreement they could live with and that the court would accept it."
To help matters, the mediators had the parties practice making their offers before proposing them to each other.
"Dad was able to express his sincere concern for Mom and make what was actually almost the same offer he had at the beginning of the mediation and Mom was able to accept his offer," Barrick said.
Supervisors like Patterson, who worked the case with Barrick, had their own tasks during the mediation.
"My job was to co-mediate that first week with one of the students while the others observe," he said. "Then my job was to keep the mediation on track. We're not here to hear people complain. We're here to listen enough to see if a mediation is possible."
He did say that he was glad to see the students take initiative themselves in the mediations.
"[One of] their jobs [is] to do an opening statement. I give them a sample and they're free to read it. I really liked that many tried to put it in their own words," he said, adding that he encourages his students to ask questions. "I try to model for them how to say properly the most difficult things, perhaps even harsh things, in the nicest possible way. Many of the students are just starting in mediation and it's not their normal procedure to ask questions that might be considered really hard.
"But they're thinking it, and after each case we do a briefing and they say 'Oh, I was thinking that but didn't know if I could say that.' And my goal is to show them that you can say those things."
Barrick considered it to be a great learning experience.
"This was my first mediation with actual clients and I was delighted to be able to assist the parties in resolving the issues that they had not previously been able to resolve," she said. "I learned to 'trust the process' and to trust my instincts."
According to Patterson, when cases get filed in small claims court, the courts require at least an attempt at mediation. The clinic has a time slot available every Monday morning, and the students get to take on the cases that come in during that time.
He said that he understands that not every student will go into mediation, but knowing about it is important.
"What I really expect from [the students] is that they will be able to look at a case and see when mediation may be the best solution to a case," he said Barrick said that she has already seen that message. "I believe that no matter what field of law a person practices, there is always a place for mediation," she said. "I also believe that I am well suited to work as a mediator because of my general personality and life experiences."
With the successes of the clinic, Patterson said he enjoys his work with the students.
"One of the most enjoyable parts of my week is actually being able to come in and mediate with the students because I think we're getting somewhere and helping [the clients]," he said.