Professor Terrill Pollman Receives AALS Section Award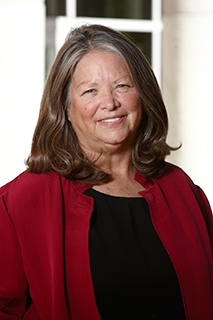 Professor of Law and Director of the Lawyering Process Program Terrill Pollman recently earned one of two annual Section Awards from the Association of American Law Schools (AALS) Section on Legal Writing, Reasoning, and Research.
Identified as an outstanding leader in her field who has made significant contributions in the areas of teaching, scholarship, and service, Professor Pollman received the award with University of Hawaii Professor Jill Ramsfield. Professors Pollman and Ramsfield were honored at the Section lunch on Saturday, Jan. 5, 2013, at the AALS Annual Meeting in New Orleans.
Professor Pollman serves as Director of Boyd's nationally ranked Lawyering Process Program. A founding faculty member, Professor Pollman teaches in the areas of Lawyering Process, Persuasion, Negotiation, and Leadership and Law. A past president of the Association of Legal Writing Directors and editor of several journals, Professor Pollman's scholarship focuses on legal writing, pedagogy and rhetoric.