Boyd Community Honored at Pro Bono Luncheon Dec. 7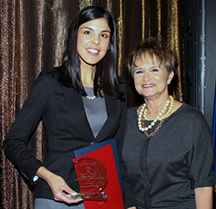 Boyd student Alexandra Varela and Nevada Supreme Court Justice Nancy Saitta
Photo: Beau Sterling, Esq.
More than 200 Boyd alumni, students and staff were recognized at the Legal Aid Center of Southern Nevada's 12th Annual Pro Bono Awards Luncheon on Dec. 7 for their pro bono work in 2012.
Alexandra Varela was named the Public Interest Law Student of Distinction. This award recognizes a law student who has made a substantial commitment to the community by doing public interest work and promoting access to justice. Alex's work in the area of child welfare made her the ideal recipient of this award!
To see a complete list of Boyd alumni and students who were recognized, click here.
Thanks to everyone who volunteered and helped people in need!