Poster by Boyd's DeShun Harris Displayed at AALS Conference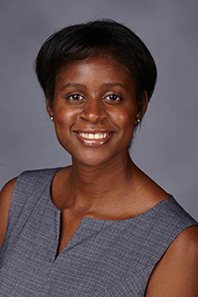 A poster submitted by DeShun Harris, Assistant Director of Academic Success at the Boyd School of Law, was selected to represent the Academic Support Program (ASP) section at the Association of American Law Schools (AALS) upcoming conference.
Harris' piece, titled Unraveling Hidden Clues: How Using Cues Helps Student Learning, answers the following questions: How do students learn? How can professors enhance student learning? How does this translate?
To see the poster, click here.
Posters submitted for consideration were reviewed and judged by Section officers. Winning posters were displayed throughout the AALS annual meeting held in early January in New Orleans.
Other winning posters for the ASP section include Creating Light Bulb Moments: Engaging Students in Self-Assessment Through Grading Rubrics from Mississippi College School of Law and Many Hands Make Balanced Work: Establishing a Culture of Balance in Academic Support Work by Securing, Leveraging and Maximizing Resources Across the Curriculum from Southern Illinois University School of Law and Villanova University School of Law.