Boyd Alumna Working on Same-sex Rights Case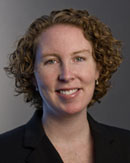 Kelly Dove '07 had a busy April. Her daughter was born just a few days after the law firm she works for filed a lawsuit that has escalated to the Supreme Court.
"It was an exciting time with a lot going on," Dove said. "I'm just glad she waited to make her arrival until after we filed the complaint."
Dove is an Associate at Snell & Wilmer, one of the legal firms representing the plaintiffs in Sevcik v. Sandoval. The case is on behalf of eight same-sex Nevada couples arguing that Nevada's ban on same-sex marriage violates their right to equal treatment under the U.S. Constitution.
"We're arguing that not offering the option of marriage to same-sex couples is a violation of the Equal Protection Clause of the U.S. Constitution," Dove said.
The lawsuit was filed with the U.S. District Court for the District of Nevada in early April. Shortly after, the Governor's office moved to dismiss it. Around the same time, the Coalition for the Protection of Marriage also moved to intervene as a defendant in the case. In late November, the District Court ruled against the plaintiffs, upholding Nevada's marriage equality ban. In an unconventional move, the Coalition for the Protection of Marriage petitioned the Supreme Court for certiorari before the the appeal had even been heard in the Ninth Circuit Court of Appeals.
"They basically asked the Supreme Court to skip the Ninth Circuit," said Dove. "Procedurally, it's unusual. Normally, we'd be plugging away at the Ninth Circuit; but currently we're preparing a response for their petition to the Supreme Court."
A total of 10 attorneys from Snell & Wilmer, O'Melveny & Myers, and Lambda Legal – a national organization committed to achieving full recognition of the civil rights of the LGBT community through litigation, education, and public policy work – are involved in Sevcik v. Sandoval.
"We're all very excited about the case. This is a carefully structured case that we think has real potential for success," said Dove.
O'Melveny & Myers and Snell & Wilmer have taken on the case pro bono.
"It's substantive work, and I'm really grateful that my firm supports pro bono work. They don't just say they support it; they support it in practice," Dove said.
While the outcome of the case is unknown, Dove speculates that the plaintiffs will need to appeal to the Ninth Circuit before reaching the Supreme Court, but that a Supreme Court review is on the horizon and has been since the beginning of the lawsuit.
"It's a pretty narrow, but tight, legal argument," said Dove. "For instance, this battle doesn't say that gay marriage should be legal in all 50 states (even though of course we support that). This lawsuit is just one more step in the right direction."