Boyd Student Receives Diversity Scholarship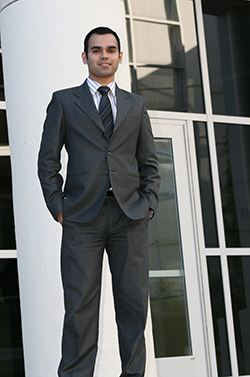 Sagar Raich was inspired by his grandfather to pursue a law degree.
"My grandfather was a criminal defense attorney in India. At the time he was practicing, there was no such thing as discovery. He had to fight for civil rights. He fought for the little guy, the guy who had no voice. Everyone in town knew him, and he's my inspiration for going to law school," said Raich.
This unique background coupled with an outstanding academic and work record are what helped the third-year Boyd School of Law student recently receive the Jackson Lewis Labor and Employment Scholarship, a $5,000 award designed to benefit law students from underrepresented social and economic backgrounds who are interested in the areas of labor and employment law.
"He has an exceptional academic record. He's very accomplished, and his letters of recommendation were excellent," said Veronica Arechederra Hall, Partner at Jackson Lewis, who helped administer the scholarship program.
Raich is a member of the Finance Law Society, Vice President of Finance and Founding Member of the Health Law Society, and Bankruptcy Class Instructor at UNLV, among other extracurricular activities. He served as a Summer Associate for Goldsmith & Guymon, P.C. in summer 2012 and as a Fellow for Lewis and Roca LLP in spring 2012. He has also held other positions spanning a wide range of industries, including casinos and airlines.
"I want to learn everything I can about the law, not just from textbooks, but in real-life applications," he said. "What I learned from both my grandfather and father is that it's about hard work and going above and beyond."
Despite his many accomplishments, Raich was surprised to learn that he'd been awarded the Jackson Lewis scholarship.
"I'm sure there were a number of qualified applicants from our school, so I was surprised that I won; I was really happy at the same time," Raich said. "It will certainly help pay for Bar prep and fees. I'm very appreciative."
This was the first year the Las Vegas office of Jackson Lewis awarded the scholarship, open to only Boyd School of Law students. A total of 10 students applied.
"The firm is very devoted to philanthropy and pro bono, and this is part of that effort," said Hall.
The same scholarship will be made available in Fall 2013. Interested students can expect to learn more about it after the beginning of the semester. The application deadline will be shortly before finals.
"We had good participation this year, but we want to keep improving," said Hall. "We'd like to establish this as a tradition, so students should look forward to applying again in the fall."