Boyd Plays Host to Street Law Program in April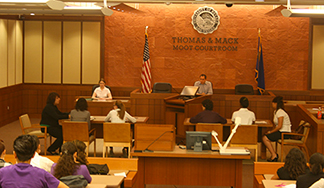 The William S. Boyd School of Law's 2013 Street Law program will hold its Mock Trial on April 26, but its classes are already up and running.
"The Street Law Program places Boyd students in high school classrooms to teach students lessons in the law that will help them in their everyday lives and promote their civic awareness," said Frank Durand, Associate Dean for Student Affairs at Boyd. "In addition to helping high school students to become better, and better informed, citizens, the program endeavors to get them thinking more seriously about going to college... and perhaps considering a legal career."
Saira Haseebullah, second-year Boyd student and president of the Minority Law Student Association, said that the program is a great experience for both the high school students participating and for the volunteers from Boyd and the larger legal community. She can speak from experience, having volunteered last year.
"It was great seeing how excited the kids get. They want to ask questions about being a law student and getting into law school," Haseebullah said.
The Street Law program was run initially at Valley High School but has since been held at Clark High School. Durand pointed out that the school involved has been determined through a working relationship with teacher Scott Beeten.
"Professor [Robert] Correales was the driving force behind the program. He likes the idea of making the law seem real and something that is not beyond young people," Durand said. "Correales was acquainted with Ron Montoya, then the principal at Valley High School. He introduced us to Scott Beeten.
"Mr. Beeten was stoked to partner with us, and we have had a terrific ongoing relationship with him and his students."
Haseebullah said that the program usually draws about 20-30 students and that about 20-30 legal community members join to volunteer for the mock trial. She added that this program is one of the best ways for students to learn about law school and become interested due to its ability to show law school as an option.
"It bridges the communication gap for the students," she said. "I hope [the students] all see law school and college isn't a far-off concept. It's a realistic goal, and mostly it's a matter of just keeping communication open."
Durand said he and Beeten have both been satisfied with the program over the years. Durand said that Beeten has praise because it gives his students a unique opportunity.
"It gives them a chance to engage in discussion and to express opinions about issues that matter to them," Durand said. "They like our students and relate to them in a way that makes for productive interaction and mentorship."
Haseebullah has lived in Las Vegas for her entire life and was drawn to Boyd's required community service.
"There's competition here [at Boyd], but the staff fosters a sense of community," she said.
As president, she said that her tasks in preparation for this event are mostly administrative.
"I inform people of what is needed and try to garner interest in the volunteers," she said. "We could always use more volunteers. The more volunteers, the smaller the groups, and the better the experience. It's not a huge time commitment, and it's a great resume line as well."
The Street Law program concludes with the mock trial competition in the Thomas & Mack Moot Court Facility. Durand said it's a good way to conclude the program for both the participants and the volunteers.
"I think most Boyd students participating in the Street Law Program will tell you that they get a huge kick out of coaching the high school students for their roles in the mock trial," Durand said. "I think many of our students see Street Law as a good 'pay it forward' opportunity."
Creating that opportunity is one of Haseebullah's goals as well.
"I want the students to enjoy it and want them to feel like they had success with the mock trial," she said.