Boyd Tandem's Presentation on Indian Migrant Workers Wins at Research Forum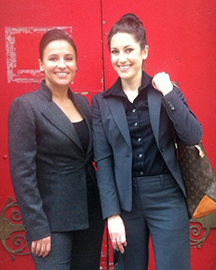 Marisa Rodriguez-Shapoval and Morgan Petrelli
William S. Boyd School of Law students Morgan Petrelli and Marisa Rodriguez-Shapoval took first place in the UNLV Graduate and Professional Student Research Forum in the Social Science and Law Division.
The pair of third-year students presented on their winter research done on Indian migrant laborers, which they gained while attending the India Winter Program this past year.
Rodriguez-Shapoval and Petrelli spent three weeks in India, along with fellow Boyd student Richard Andrews and Professor Fatma Marouf, and learned from law professors in New Dehli while seeing India's legal system in action.
"We received a grant from the Graduate and Professional Student Association, which funds research programs for UNLV graduate and professional students, and so we were asked to present our research," Rodriguez-Shapoval said.
Each person presented his or her research for 15 minutes with a five-minute question and answer portion. Petrelli noted that she and Rodriguez-Shapoval were the only team of students to present.
The presentation was mostly a summary of the work that had been done in India, Rodriguez-Shapoval said. They took the audience through their observations and actions.
"Our forum presentation was premised around advocating for migrant construction workers' rights," Petrelli said. "What we did is we explained all the rights violations we observed and showed pictures of what we saw – poor living conditions, children running around unsupervised in really dangerous conditions – and we basically went through our observations and then showed the results of our work, which was to file complaints on behalf of these workers."
They both pointed out that India differs from the U.S. in that workers' rights violations can be filed on behalf of other people, which is why they were able to do the work they were doing.
"It's interesting how progressive the laws are and yet how few mechanisms are in place to enforce it," Rodriguez-Shapoval said. "You have this country with great laws but corruption prevents things from getting done. The public interest litigation is a really positive thing that exists over there."
"The importance of this project is to bring awareness to the human rights violations going on in the construction industry in India," Petrelli said.
"I think awareness is priority No. 1 and I'd like to see more students get involved with the [India Winter] program and hope there's enough interest next year so that this is not a one-time piece of research that doesn't make it far," Rodriguez-Shapoval said.
The duo presented again on Monday, April 22 at Boyd. They also noted that if students want to attain a grant for the program next year, they must apply with the GPSA and present their findings at the forum next year.