Boyd Student Wins Regional Soroptomist Fellowship Award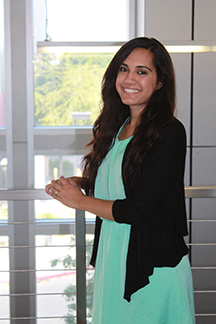 William S. Boyd School of Law student Saira Haseebullah has won the Soroptomist International: Sierra Nevada Region Fellowship Award this year.
The award provides $3,000 to help the winner with a research project. Soroptimist International is a worldwide organization for women in management and professions working through service projects to advance human rights and the status of women.
Haseebullah said that her planned research involves helping domestic violence victims in a way that helps ensure they don't need to return to their situation.
"The goal is to look at how to have a center that will empower the victims but assists in the process from start to finish to prevent returns," she said, adding that her time as a domestic violence clerk at the Legal Aid Center of Southern Nevada helped inspire this idea.
"I started to notice that [the people who come in] are not limited by race. I learned that the offender usually was the one who controlled the funds, so little things come into play that make the victims return [to their prior situation]. If everything is offered in one package, it would be easier to escape the situation," Haseebullah said.
The Sierra Nevada region consists of 11 Soroptomist chapters, four of which are in the Las Vegas area. Haseebullah was awarded the fellowship at the region's banquet in April, where she got the chance to talk about what she will be doing with the funding.
"[The banquet] gives a real opportunity to get involved with the organization," she said.
She added that she's still planning what she wants to do with her project over the summer.
"I eventually want it to become a full-fledged program, so the summer will most likely be figuring out what pieces I need," she said.