Boyd Wins Jurisprudence Award from Anti-Defamation League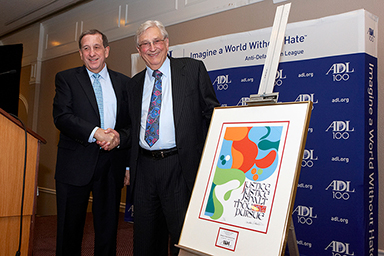 The William S. Boyd School of Law has been honored by the Anti-Defamation League with the group's award for Jurisprudence.
The ADL's Jurisprudence Award is given to people and organizations that contribute to the legal community and provide services that advance the anti-bigotry goals of the ADL. Boyd is the first organization to win the award.
"We thought it was the right time [to give Boyd the award] because of all that Boyd has done for the community," said Phyllis Friedman, Regional Director for the Nevada chapter of the ADL. "[Boyd] has been an integral part of serving the city through the pro bono work and counseling it offers."
The Boyd School of Law received the award and was honored at a luncheon on May 31. Friedman said that more than 200 people attended, including judges, attorneys, and past winners.
"We were glad that Bill Boyd could come to accept the award," Friedman said.
Clark County District Attorney Steven Wolfson was the keynote speaker for the event, and Senator Richard H. Bryan also spoke. Current Boyd Dean Daniel Hamilton and former Interim Dean Nancy Rapoport also gave brief remarks. Former U.S. Representative Shelley Berkley, who was in office when Boyd opened, gave the closing remarks.
"Overall, it was just a picture-perfect event," Friedman said.
The ADL, which was established in 1913, "fights anti-Semitism and all forms of bigotry in the U.S. and abroad through information, education, legislation, and advocacy," according to its website. The group was one of the groups involved with the Nancy Sheppard trial and remains a major institution for the promotion of civil rights.
There are 31 ADL chapters nationwide including the Nevada chapter, and multiple chapters give out a Jurisprudence Award.