Boyd to Host Labor and Employment Colloquium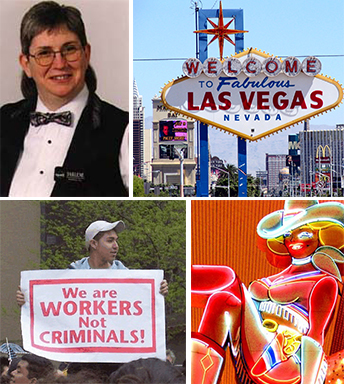 The UNLV William S. Boyd School of Law has been selected to host the 8th Annual Colloquium on Current Scholarship in Labor and Employment Law.
The UNLV campus will be the sole host of the event, which will be held on September 27 and 28. The Colloquium will take place at the Boyd School of Law, except for one plenary panel at Tam Alumni Center and one plenary panel at the Culinary Workers Union Hall.
"[The Colloquium] usually involves two or three schools hosting. Last year, it was hosted by Loyola (Chicago) and Northwestern law schools," said Boyd Professor Ruben Garcia. "It's a real coup for Boyd to be the sole host school in what is becoming a bigger gathering each year."
Garcia organized the Colloquium with Anne McGinley, William S. Boyd Professor at the law school.
"The reason I think we can [be the sole host] is because we have a very strong interest in labor and employment law here and have a number of well-known scholars in that field," Garcia said.
He noted that Las Vegas, being "one of the last union towns in the United States" while simultaneously being in a "right to work" state, was most likely one of the aspects that attracted the colloquium to the school.
"I think a lot of people wanted to come this year because of the unique environment and labor issues here in Las Vegas," he said.
The conference will have a number of speakers from top schools, including Yale, Princeton and Fordham University.
"There will be more than 70 speakers over one and a half days," he said. "There will be three plenary speakers who will speak at an event on Friday at the Tam Center at lunch time about the upcoming 50th Anniversary of Title VII of the Civil Rights Act of 1964."
There will also be a special panel on the labor history of Nevada, from the mines to the casinos, at the Culinary Union Hall in Las Vegas.
Garcia has worked with the Colloquium before. He took part in the third annual installment when it was held in San Diego. He said while the experience has its differences, his experience has helped him.
Garcia also noted that the Colloquium has grown in the last five years.
"It's grown in terms of people participating as well as in terms of its international reach," he said.
He added that the Paul Steven Miller Scholarship Award, which is given out during the Colloquium, has been established in that time. Professor Marley Weiss of the University of Maryland Francis King Carey School of Law will be the third recipient of the award.