Sandra Douglass Morgan Honored at Olive Crest's Ladies of Distinction Luncheon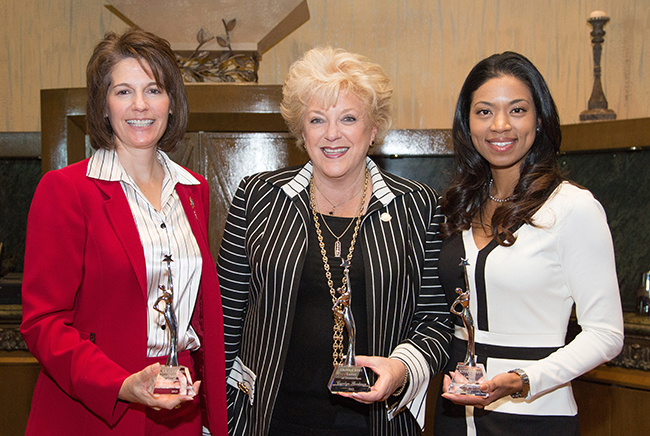 Photo by Exceed Photography, courtesy of Olive Crest: From left, Attorney General Catherine Cortez Masto, Mayor Carolyn Goodman, and Acting North Las Vegas City Attorney Sandra Douglass Morgan
William S. Boyd School of Law alumna Sandra Douglass Morgan '03 was honored with the Thalia Dondero & Hannah Brown Award of Distinction at Olive Crest's Ladies of Distinction luncheon fundraiser on Oct. 18. The event was held at Cili in the Bali Hai Golf Club.
Douglass Morgan joined fellow 2013 honorees Attorney General Catherine Cortez Masto and Mayor Carolyn Goodman to be recognized as women who actively make a difference in the lives of others throughout the community. In addition to her successful legal career – Douglass Morgan currently serves as the Acting City Attorney of North Las Vegas – she has remained active in helping prevent child abuse with Olive Crest.
"It is such an honor to be given this award from Olive Crest, an organization that understands the importance of strong families and is dedicated to ensuring that every child has a safe home," Douglass Morgan said. "My fellow honorees, Las Vegas Mayor Carolyn Goodman and Attorney General Catherine Cortez Masto, are well known for women and children, and it was a privilege to receive the Award of Distinction with both of them."
All of the funds raised at the luncheon will be used to help southern Nevada's most at-risk children and families.