Professor Anne Traum Appointed as Associate Dean for Experiential Legal Education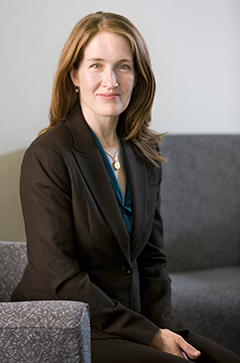 Professor Anne Traum has been appointed to serve as Associate Dean for Experiential Legal Education.
In her new role, Dean Traum will oversee the development and implementation of the many parts of the curriculum specifically geared toward preparing lawyers for the real world of practice through the school's legal clinics, externship program, and experiential learning. These experiential opportunities are essential to attracting law students and giving them a competitive edge in the job market.
The centerpieces are the Thomas & Mack Legal Clinic, comprising the law school's six in-house clinics, in which students represent clients in a range of settings, and the Saltman Center's mediation clinic in which students serve as neutral mediators in real-life legal disputes. A hallmark of the clinics is that they are taught by legal scholars and function as laboratories for legal reform through litigation, policy work, and collaborative partnerships. So beyond imparting professional skills, students gain a deeper appreciation of their capacity to shape the law.
In the Externship Program, each year more than 125 students learn by working alongside skilled practitioners in judicial, government, and public interest law offices. Additional skills for practice—problem solving, drafting, trial skills, negotiation—are featured in the classroom as part of specialized and traditional course work, and developed in community service activities.
Dean Traum's depth of litigation experience and exceptional qualities as a scholar and teacher make her well-suited to lead the law school's effort to offer students a rich menu of hands-on learning opportunities. Before joining the law school, Dean Traum served as a federal judicial clerk, a civil trial attorney at the Department of Justice, and represented indigent defendants and prisoners as an Assistant Federal Public Defender. At the law school, Dean Traum teaches Federal Courts, Criminal Procedure Investigation, Criminal Procedure Adjudication, and founded the Appellate Clinic in 2009, in which students brief and argue appeals in United States Court for Appeals for the Ninth Circuit and the Nevada Supreme Court.
Dean Traum currently serves as a Lawyer Representative for the District of Nevada, and she serves on the Nevada Supreme Court's Access to Justice Commission. She's been instrumental in developing the Nevada Supreme Court Appellate Pro Bono Program. From 2009 to 2011, she served as an Appellate Lawyer Representative to the Ninth Circuit Court of Appeals.