Boyd School of Law Hosts Ninth Circuit Judges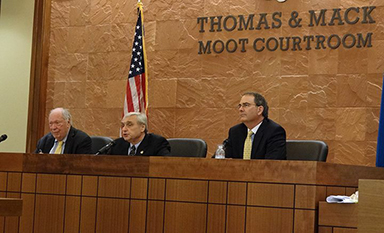 The United States Court of Appeals for the Ninth Circuit held a special sitting on Jan. 28 at the William S. Boyd School of Law.
A three-judge panel heard oral argument in two cases, took questions from students, and joined faculty members for lunch.
Chief Judge Alex Kozinski, Judge Jay Bybee, and Judge Stephen Reinhardt heard a class action certification issue and a constitutional challenge.