Legal Advice from Boyd Alumna for Drop Dead Diva
Tara Shiroff '05 is fast becoming the legal consultant of choice for television shows featuring lawyers or legal issues.
After an auspicious beginning in 2006 as the legal consultant for the CBS network television series CSI: Crime Scene Investigation, she added this summer new client Drop Dead Diva, the Lifetime cable network's buzz-producing combination comedy-legal-fantasy-drama television series. The first showing in July achieved a best ever initial ratings for Lifetime, attracting more than 2.8 million viewers.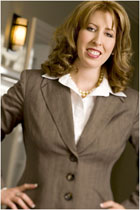 The show is most commonly described as the story of a svelte, shallow model-in-training who, after dying in a car crash, finds her soul subsequently embodied in a brilliant, thoughtful, but clearly plus-sized attorney producing a brains vs. beauty conflict. Guest appearances have been accepted by, among others, Elliot Gould, Tim Gunn, and Rosie O'Donnell.
A summa cum laude honors college graduate from the University of San Diego with a B.A. in political science, Mrs. Shiroff participated in the university's Semester at Sea Program, living three months on a ship while doing fieldwork in Greece, Spain, Norway, Russia, Belgium, Morocco, Italy, Egypt, Turkey, and Switzerland. She was the Vice President of the Boyd School of Law Student Bar Association and won a Boyd Merit Scholarship. She also served as a teacher's assistant for a criminal law class at Cambridge University in the United Kingdom.
At present, she practices litigation and trial work for Watson Rounds in the following areas: insurance defense, general civil, medical malpractice defense, negligence, product liability, and premises liability.