Boyd Alumna Billie-Marie Morrison Becomes WomenHeart Champion
Billie-Marie Morrison '01 began feeling sick in the fall of 2008 with what she thought was a cold. When winter followed, her breathing was off and she assumed it was just asthma, which she has had her whole life. One day when Billie-Marie went to work, her friends knew there was something seriously wrong and forced her to go visit a doctor.
At first Billie-Marie was diagnosed with pneumonia after x-rays were taken at Urgent Care. She was given antibiotics and took them regularly, but was not feeling any better, only worse. When she went back to the doctor, Billie-Marie was diagnosed with bronchitis, but she later received a phone call telling her to come back to the doctor immediately.
The clinic had received Billie-Marie's x-ray report and suspected she had a heart problem. After visiting a cardiologist and taking many tests, Billie-Marie was diagnosed with cardiomyopathy, a serious disease of the heart muscle that makes it difficult to pump blood and deliver it to the rest of the body. Her ejection fraction rate, the measurement used to determine the function of one's heart, was only at 10 percent. She later found out that 10 percent was thought not to be enough to sustain human life.
At one point Billie-Marie had to wear a Life Vest, which is a portable EKG machine and defibrillator. She had to wear the vest every hour of the day, except when bathing.
On June 12, 2009, Billie-Marie had surgery to get a 3-lead, bi-v AICD implanted into her chest, a device which would control 75 percent of her heart. She is the first person in the state of Nevada to receive this device. Three months after surgery, her ejection faction rate was at 50 percent.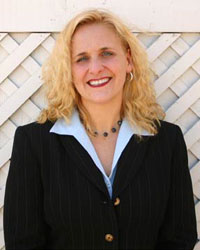 Billie-Marie found out about WomenHeart, a patient advocacy organization for women with heart disease affiliated with the Mayo Clinic in Rochester, Minn., when she saw an ad in Heart Healthy magazine. She applied to become a WomenHeart Champion and was chosen. After she was chosen, she traveled to Minnesota to attend a five-day training symposium. Billie-Marie is one of 65 women who is now able to speak on behalf of the clinic on the issues of heart health and early detection.
"The Class of 2009 is extremely impressive," said Lisa M. Tate, Chief Executive Officer of WomenHeart, headquartered in Washington, DC. "These 65 women are living with the most devastating of diseases and yet have made a conscious decision and selfless commitment to help other women – young and old – live heart healthy lives and support those currently living with heart disease."
Billie-Marie will soon have her own radio show called "Double Take - The Heart of the Matter" for KLAV on Fridays, starting March 5, from 4 to 5 p.m. On the show she will discuss women's health and women's issues.
"I am thrilled and honored to represent this very important campaign to fight heart disease in women," said Billie-Marie. "I look forward to getting started right here in Clark County to educate the community and support all women in their quest to live a heart healthy life. Together, we can do it and make a difference."
Recently, after given the okay to exercise from her doctors, Billie-Marie has decided to raise money for and participate in the Tour de Cure for the American Diabetes Association on April 10 at the Henderson Events Plaza. So far, Billie-Marie has raised $3,000 for the cause. To sponsor a rider or to donate to the cause, go to tour.diabetes.org.
"Sometimes diabetes and heart conditions can really go hand in hand," Billie-Marie said.
Her heart disease has not set her back, but has only pushed her forward. Billie-Marie works at Craig P. Kenny & Associates as a practicing attorney, dealing with issues such as personal injury, workers' comp and products liability. Her experience has only improved her job skills and has helped her take her career to another level.
"My experience has made me a better attorney because I have inside knowledge of what they're [clients] going through. I know what they're talking about," Billie-Marie said. "I love helping people and it makes me feel good and I wouldn't give it up [working at a law firm] because helping people makes me happy."
WomenHeart: The National Coalition for Women with Heart Disease is the nation's only patient advocacy organization serving the 41 million American women living with or at risk for heart disease – the leading cause of death for women. WomenHeart is solely devoted to advancing women's heart health through advocacy, community education, and the nation's only patient support network for women living with heart disease. WomenHeart is both a coalition and a community of thousands of members nationwide, including women heart patients and their families, healthcare professionals, and health advocates, all committed to helping women live longer, healthier lives. To join or donate, visit www.womenheart.org.
For a related story, see the Review-Journal article here: http://www.lvrj.com/news/heart-patient_s-weekly-radio-show-to-focus-on-women_s-health-issues-84939962.html.