Public Interest Fellows Named for 2010-11
The William S. Boyd School of Law awarded four students with the Public Interest Fellowship for the 2010-11 school year.
The fellows are first-year students Shannon Phenix and Amanda Morgan and third-year students Amaia Guenaga and Carmela Reed.
The Public Interest Fellowship Program provides financial resources, mentorship and learning opportunities to law students who demonstrate strong academic credentials, community service and a commitment to perform public interest work after graduation.
Public interest fellows receive full-tuition scholarships for one year renewable provided that the fellow remains in good academic standing; up to $5,000 in support for one summer's work in public interest; and expenses to attend one public interest conference in the United States.
Shannon Phenix
Phenix said her interest in public service began when she worked for the service-learning office as the Student Education Pathway Leader at Kapi'olani Community College in Hawaii. While there, she tutored students at low-income elementary schools and worked on a Hawaiian environmental restoration project.
She later accepted a public interest scholarship to attend the Shidler College of Business at the University of Hawaii at Manoa. There, Phenix participated in several public service events, including the Honolulu AIDS Walk and Nike 5K Run for Kids, and she served on the executive board for the Society for Human Resource Management.
"My experience as a tutor resulted in a passion for education advocacy and policy that led me to law school," Phenix said.
Her goal is to pursue a career in the area of education policy and advocacy, whether with a small nonprofit or government public service position.
Amanda Morgan
Prior to law school. Morgan worked for the Child Assault Prevention program, in which she went to elementary schools and facilitated workshops with children, discussing topics such as bullying, strangers and child abuse. She also volunteered at the Rape Crisis Center as an advocate for rape victims, answered calls on the hotline and accompanied those who chose to go to the hospital or file a police report.
"I'm interested in working on behalf of children in some capacity as an attorney. I have yet to pin down exactly what area of law I will pursue, but it will definitely be an area of public interest law," Morgan said.
Carmela Reed
For five years before attending law school, Reed assisted the administrator for a state-run psychiatric hospital for children. She participated in DJs for PJs (an event to collect clothing, pajamas in particular, for disadvantaged children), and also helped set up booths and chaperoned at the annual Ronald McDonald House Halloween for inpatient residents. In addition, she worked on the performance improvement committees that oversaw medical records maintenance and human resources/morale activities. She also helped form and chaired a new committee, the Employee-Management Committee, which facilitated communication between staff and hospital management.
Last summer, Reed had an externship with the District Attorney's Office in the Juvenile division, working on child welfare cases.
"I would love to work either as an advocate for children (particularly abused/neglected youths or those struggling with mental health issues) or work for the District Attorney's Office in the juvenile division or support enforcement," Reed said.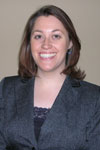 Amaia Guenaga
Before entering law school, Guenaga received her master's degree in counseling with an emphasis on marriage and family. She worked with adolescents in the juvenile justice system and their families doing individual, group and family therapy. In spring 2010, she worked as a student attorney in the Family Justice clinic, (which was one of the most rewarding experiences I've had), and in summer 2010, she worked an externship for Legal Aid of Nebraska in Omaha.
Guenaga said she has always had a passion to help children (from infancy through adolescence) and their families.
"My goal, upon entering law school, and now is to combine the knowledge and experience I am gaining in law school with the knowledge and experiences I gained through my education in my master's in counseling and my work experience thereafter, in order to help, protect, and advocate for others, primarily children and their families," Guenaga said.