UNLV Lincy Institute Awards Boyd Professor and Two Boyd Alumni
Boyd School of Law Professor Sylvia Lazos and Boyd alumni Kathleen Ja Sook Berquist and Denise Tanata Ashby have recently been presented with the UNLV Lincy Institute's inaugural fellowship awards and a senior resident scholar position.
At the university's 2011 Academic Recognition Ceremony & Reception held on Thursday, April 14, 2011, Professor Lazos and Berquist '09, a UNLV Professor in the School of Social Work, were publicly acknowledged among six other recipients with The Lincy Institute Fellowship Research Award. Each fellowship was awarded in the amount of up to $20,000 in funding and represents research which will address specific topics of community need and demonstrate a direct impact with community agencies in Southern Nevada.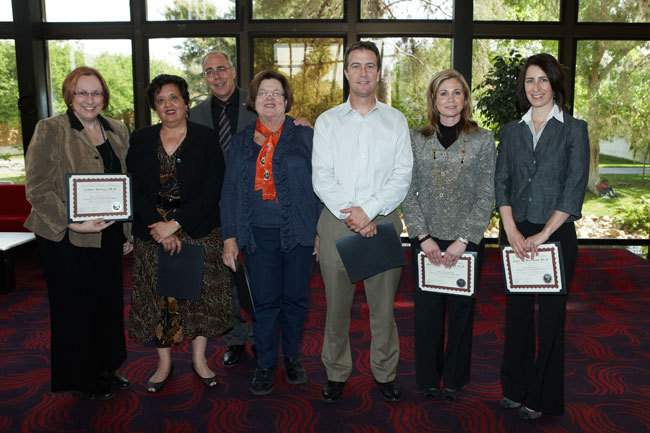 Boyd Professor Sylvia Lazos, second from the left, is pictured with UNLV President Neal Smatresk and the other five recipients acknowledged with The Lincy Institute Fellowship Research Award
Earlier this year, Tanata-Ashby '03, Executive Director of the Nevada Institute for Children's Research and Policy at UNLV, was selected as one of four Senior Resident Scholars to begin service with The Lincy Institute. Senior Scholars will develop the Institute's strategic program plan and work directly with the Southern Nevada community to address large-scale challenges in the areas of education, health, information technology and social services.
The mission of The Lincy Institute is to conduct and support research that focuses on improving Nevada's health, education, and social services. This research will be used to build capacity for service providers and enhance efforts to draw state and federal money to the greater Las Vegas. The Lincy Institute will also highlight key issues that affect public policy and quality-of-life decisions on behalf of children, seniors, and families in Nevada. For more information about The Lincy Institute, go to http://lincyinstitute.unlv.edu.