Founders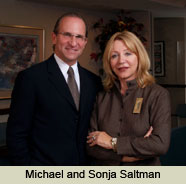 Michael & Sonja Saltman
The Saltman Center owes both its inspiration and its existence to the generous contributions and personal efforts of its founding donors, Michael and Sonja Saltman. These contributions have made it possible for the Center to hire its Director and to embark on the first phase of its mission—promoting scholarly investigation in the field of dispute resolution.
The Saltman Center is now undertaking additional fundraising efforts, seeking a combination of grants and private contributions, in order to expand its scholarly programs and to embark on the educational and public service aspects of its core mission. If fundraising efforts are successful, the Center will be able to fulfill its promise of becoming one of the leading national and international resources for the study and resolution of conflicts.