When
January 7 - 12, 2016
Where
BSL Thomas and Mack Moot Court Facility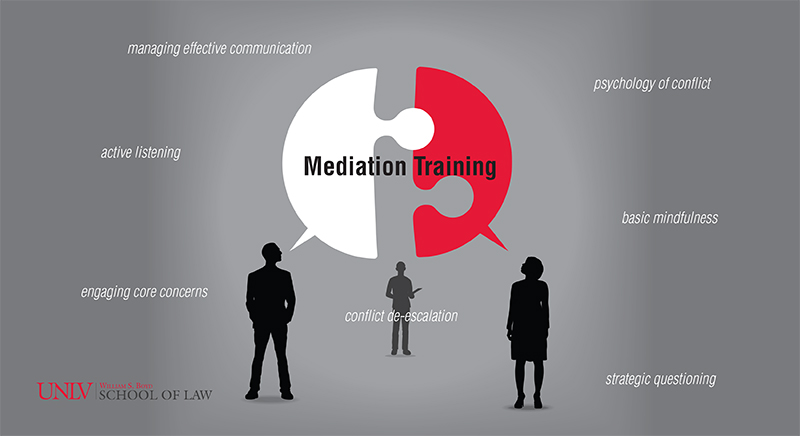 UNLV William S. Boyd School of Law
Saltman Center for Conflict Resolution
Mediation Essentials: 40-hour Basic Mediation Training
Jan. 7-9 and 11-12, 2016
UNLV William S. Boyd School of Law
Thomas & Mack Moot Court (see maps and parking)
Join us for this dynamic and interactive mediation training taught by two experts in the field. This 40-hour training fulfills the requirements of most court sponsored mediation programs. Participants will be trained in basic mediation skills and encouraged to begin developing their own mediation styles. As part of their mediation training, participants will also gain a comprehensive understanding of the psychology of conflict and negotiation.

Trainers: David Doto, Esq. LL.M. and Selina Shultz, Esq., LL.M.

Skills that will be taught:

Strategic communication
Active listening
The power of reflecting, restating and reframing
Strategic questioning
Engaging with the core concerns
Conflict de-escalation
Basic mindfulness
Basic negotiation theory and skills

Who should attend?
Anyone who seeks to explore and better understand how to engage others in meaningful dialogue, de-escalate conflict, improve advocacy skills in a mediation/negotiation context, and develop lower-cost mutually beneficial, interest-based resolutions to litigated and non-litigated issues, problems, or disputes.

Those seeking basic mediation skills
Attorneys
HR professionals
Businesspersons
Cost:
$1025 (parking, lunch and refreshments included)
Registration:
To register, click here.
Request More Information:
To request more information, complete the form here or contact:
Nakia Jackson-Hale
(702) 895-2489

Testimonials
"Best CLE course that I have ever taken."
Sophia Paul, Esq.
"Selina is truly one of the best educators I have ever encountered."
Mary Austin, Esq.
"David is brilliant ... and I recommend him highly."
Ken Cloke
About the Trainers
David Doto, Esq. LL.M.
David M. Doto had a distinguished legal career spanning two decades as a civil litigator and business legal consultant representing clients ranging from individuals to Fortune 100 companies in the state and federal courts of Pennsylvania, New Jersey, and Nevada.
As a conflict professional, David is the former Director of the Conflict Transformation Institute of
CoralBridge Partners, LLC, where he provided mediation and conflict-related training and consulting services to organizations and law firms nationwide. He currently serves as a judicial appointee in Clark County, Nevada, and as an adjunct professor of law at both the Saltman Center for Dispute Resolution in UNLV's William S. Boyd School of Law, and the Straus Institute for Dispute Resolution in the Pepperdine University School of Law.
David is a graduate of Villanova University with degrees in both Philosophy and Psychology, and received his Juris Doctorate from the Villanova University School of Law. Additionally, he holds an LL.M. in Dispute Resolution with a concentration in mediation from the prestigious Straus Institute of the Pepperdine University School of Law, and has earned numerous academic and professional accolades throughout his career. David is a Fellow of the Litigation Counsel of America, co-founded the LCA's American Academy of Alternative Dispute Resolution, and is a former Chair of the organization.
Selina Shultz, Esq., LL.M.
A highly trained and experienced conflict management professional, Selina has spent the last eighteen years, serving as a Mediator, Conflict Coach, Dispute Resolution and Mediation Trainer, Arbitrator and Designer of In-House Mediation/Dispute Resolution Programs. Selina provides services to individuals through The Alternative Group. She is equally equipped to provide mediation services to individuals in civil and divorce disputes, as she is to provide trainings, conflict culture interventions, and in-house mediation programs to corporations which are struggling with conflict. Selina's strength is managing conflict and mediating cases with ongoing relationship dynamics.
Selina provides both basic and advance mediation and conflict resolution trainings, having provided trainings both locally and nationally for organizations and corporations, as well as at the law school level at both The Straus Institute for Dispute Resolution at Pepperdine University School of Law, Duquesne University School of Law, and The Saltman Center at The UNLV School of Law.
As an active member of the Mediation Council of Western Pennsylvania, Selina has served as the Co-Chair of the Program Committee, Treasurer, Vice President, and is currently President of the Board. Selina has also served on the Board of the Pennsylvania Council of Mediators. She is also a member of the Allegheny County Bar Association's Alternative Dispute Committee and the Association for Conflict Resolution.
Selina graduated in 1990 from the University of Nebraska with a BA in Political Science and obtained her JD in 1993 from the University of Pittsburgh. She graduated in the spring of 2015 with an LL.M. in Dispute Resolution with an emphasis in Mediation from The Straus Institute at The Pepperdine University School of Law, the top ranked program of its kind in the country.
Mediator Panels: Contract EEOC, US Bankruptcy Court, and Western District of PA
About the Saltman Center for Conflict Resolution
Consistently recognized among the nation's top ten programs, the Saltman Center for Conflict Resolution provides a forum for the advanced study of the nature of conflict and how to resolve it. Through our scholarly research, coursework, lectures, conferences, workshops, and competitions, we explore a wide array of disputes—public and private as well as regional, national, and international.