When:
Thursday, April 27, 2017 -
Where
BSL Thomas and Mack Moot Court Facility (151)
The Meanings and Ends of Reconstruction
An Author-Meets-Readers Discussion of
Thunder in the Mountains
CHIEF JOSEPH, OLIVER OTIS HOWARD, AND THE NEZ PERCE WAR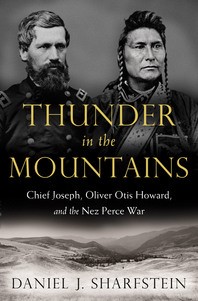 When: 4pm to 5:30pm, Thursday, April 27, 2017
Where: Thomas & Mack Moot Courtroom, William S. Boyd School of Law
Nevada Humanities Executive Director Christina Barr will moderate a panel discussion that includes opening remarks by Professor Daniel J. Sharfstein of Vanderbilt University about his visionary history of the American West and commentary by Dean Dan Hamilton of the Boyd School of Law and Professors William J. Bauer (UNLV History Department) and Julia Lee (UNLV English Department).
This event, which is cosponsored by the William S. Boyd School of Law, BMI, and the UNLV History Department, is free and open to the public.
To register, please click here.
Click here, to see the event flyer.