Assistant Director of Academic Success Program
Assistant Professor-in-Residence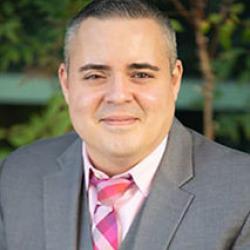 Education:
J.D., William S. Boyd School of Law, University of Nevada Las Vegas
B.S., University of Maryland Global Campus
A.S., Community College of the Air Force
Assistant Director of Academic Success Program
Assistant Professor-in-Residence
Bio :
Homero A. González was born in The Bronx, New York, and raised in his paradise of Cabo Rojo, Puerto Rico. He earned his J.D. from the William S. Boyd School of Law. Prior to attending Boyd, Professor González served in the United States Air Force for 14 years. During his time in the armed forces, he served in several stateside and overseas bases, spanning three continents. Professor González is licensed to practice law in the State of Nevada. Specifically, he practices immigration, personal injury/insurance defense, criminal defense, and family law.
Additionally, Professor González is serving his second term on Nevada's Standing Committee on Judicial Ethics (January 2020 – December 2023), which provides judges and aspiring judges with "advisory opinions regarding ethical matters that may arise in the ordinary course of judicial service, or in the elective or appointment process."
Among Professor González's publications is an article in Nevada Lawyer (July 2020 issue) titled Navigating Nevada's Workers' Compensation System. In this article, he outlined and described the requirements necessary for attorneys and injured workers to begin a workers' compensation claim in Nevada. Professor González also co-authored and co-presented a lecture with his friend and colleague, Michael Shamoon, titled The Insular Cases: The Constitutional Status of United States Territories. This presentation, accredited by Nevada's Board of Continuing Legal Education, explored case law decided on grounds of invidious discrimination against persons from the inhabited territories claimed by the United States government, including his home of Puerto Rico, along with the present impact of these cases.