Sonya Watson
Rosenblum Family Foundation Tax Clinic Program Director
Assistant Professor-in-Residence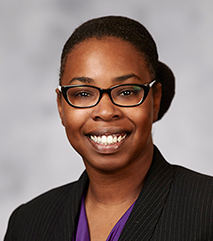 Bio:
Sonya Watson began her service at the William S. Boyd School of Law at UNLV as the Interim Externship Director. She served in this position for one year before becoming Boyd Law's Rosenblum Family Foundation Tax Clinic Program Director. Before joining Boyd, she served as a lecturer and the director of the Federal Tax Clinic at the University of South Dakota School of Law. As director of the Federal Tax Clinic, Sonya supervised second and third-year law students representing the clinic's clients in controversies with the Internal Revenue Service. She also taught the clinic's seminar, which covered substantive and procedural tax law, in addition to fundamental legal skills.
Following graduation from Boyd Law, Sonya earned an LL.M. in Taxation at Villanova University where she was an attorney and fellow in the Villanova Federal Tax Clinic. She also clerked for the Honorable Mary S. Brennan, J.T.C., in the New Jersey Tax Court.
Sonya is a class of 2013 Boyd alum. During her time at Boyd she completed externships with Nevada Legal Services in its Low Income Taxpayer Clinic, the Nevada Attorney General's Office in the Business and Taxation Division, and the Nevada Department of Taxation under the supervision of now Chief Administrative Law Judge Dena Smith.