Tonya M. Evans
Visiting Professor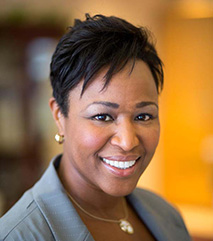 Areas of expertise:
Wills & Trusts, Copyright Law, Intellectual Property Law, Property Law, Entertainment Law
Bio:
Tonya M. Evans is an Associate Professor of Law at Widener University Commonwealth Law School in Harrisburg, Pennsylvania with expertise in the areas of intellectual property, entertainment law (literary and music), and trusts & estates (among other disciplines). Professor Evans joined the faculty as a visiting professor in 2007 and tenure-track professor in 2008. She received tenure in Spring 2014. She serves as Faculty Advisor to the Widener Law Journal. Professor Evans has also served as Adjunct Professor of copyright, publishing and licensing at York College of Pennsylvania.
Professor Evans writes primarily about the impact of new technology and new forms of artistic expression on copyright law. She also explores the intersection of intellectual property and trusts and estates law in her scholarship. In addition to her academic scholarship, Professor Evans is the author of an award-winning series of legal reference guides for writers and publishing industry professionals, which were selected by Writer's Digest Book Club® as club selections for its members. She is a nationally recognized speaker who presents to various audiences regularly on publishing law and intellectual property law, in particular.
Professor Evans attended Northwestern University on a four-year tennis scholarship, and thereafter she competed on the women's professional tennis circuit. She played, most notably, in the qualifying rounds of the US Open, Virginia Slims of Philadelphia, and Lipton in 1993. After retiring from the tennis circuit in 1995, she attended Howard University School of Law on an academic scholarship. During law school, Professor Evans interned with the Honorable Arthur L. Burnett, Sr. in the Superior Court for the District of Columbia, with U.S. Congressman Chaka Fattah and with the Honorable Theodore A. McKee in the U.S. Court of Appeals for the Third Circuit. Professor Evans also served as Editor-in-Chief of the Howard Law Journal (1997-1998) and Research Assistant to Professor (now Dean) Lisa A. Crooms.
After graduating with honors, Professor Evans clerked for the Honorable Theodore A. McKee in the U.S. Court of Appeals for the Third Circuit and thereafter worked at two national firms in Philadelphia until establishing her own firm. Professor Evans informs her courses with her vast experience in her areas of expertise as well as her creative background as a published author and poet, and her competitive, disciplined background as a former professional tennis player.