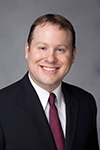 Associate Director & Associate Professor
Email:
Phone:
702-895-2430
David McClure is the Associate Director and an Associate Professor at the Wiener-Rogers Law Library at the William S. Boyd School of Law. He provides specialized research assistance to law faculty, and coordinates the library's faculty liaison and student research assistant programs. He also oversees the library's circulation and reference services, and administers digital technologies that support teaching and scholarly activities.
David previously served as a Tarlton Fellow at the Tarlton Law Library at the University of Texas School of Law from 2007-2009, and prior to pursuing law librarianship, he practiced law at King & Spalding LLP in New York from 2002-2004 and at Woods & Aitken LLP in Nebraska from 2004-2007. He also served as a Judicial Law Clerk to Chief Justice John V. Hendry of the Nebraska Supreme Court from 2001-2002.
David received his J.D. with high distinction from the University of Nebraska College of Law in 2001, where he was a member of Order of the Coif and an executive editor of the Nebraska Law Review. He received his Master of Science in Information Studies from the University of Texas at Austin School of Information in 2009, and a B.A., summa cum laude, in Political Science and Spanish from the University of Nebraska at Kearney in 1998.
Selected Publications:
Embracing Messiness in the Law Library (Without Abandoning the Checklist), AALL Spectrum, July/Aug. 2019 at 28 (with Beau Steenken).
Eight Ways Law Librarians Can Jump-Start Productivity, AALL Spectrum, Jan./Feb. 2018, at 23 (with Anne Mostad-Jensen).
We Are All Contingent: Fighting Vulnerability in the U.S. Workforce, in Vulnerability and the Legal Organization of Work (Martha Albertson Fineman & Jonathan W. Fineman eds., forthcoming 2017) (with Ann C. McGinley).
Joining the Conversation: Law Library Research Assistant Programs and Current Criticisms of Legal Education, 32 Legal Reference Services Quarterly 274 (2013).
Stoney Road Out of Eden: The Struggle to Recover Insurance for Armenian Genocide Deaths and Its Implications for the Future of State Authority, Contract Rights, and Human Rights, 18 Buff. Hum. Rts. L. Rev. 1 (2012) (with Jeffrey W. Stempel & Sarig Armenian).
Book Review, Parchment, Paper, Pixels: Law and the Technologies of Communication by Peter Tiersma, AALL Spectrum Blog (Dec. 15, 2010).
Revisions to Glossary, in Fundamentals of Legal Research (Steven M. Barkan, Roy M. Mersky & Donald J. Dunn eds., 9th ed. 2009) & (Steven M. Barkan, Barbara A. Bintliff, & Mary Whisner eds., 10th ed. 2015).
Feature Article, Construction Payment Bonds, The Nebraska Lawyer, Apr. 2006, at 34 (with Craig C. Dirrim).
Note, First Amendment Freedoms and the Encryption Export Battle: Deciphering the Importance ofBernstein v. United States Department of Justice, 176 F.3d 1132 (9th Cir. 1999), 79 Neb. L. Rev. 465 (2000).