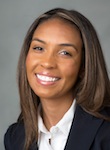 Assistant Dean of Career Development and Judicial Clerkship Advisor
Email:
Rachael Reese Adair joined Boyd as the Director of Career Development and Judicial Clerkship Advisor after having ten years of legal practice experience in the federal judiciary, private practice, and the corporate world.
Rachael began her legal career as a judicial law clerk for the late Honorable Thomas M. Shanahan of the United States District Court for the District of Nebraska. A native New Yorker, Rachael then joined Winston & Strawn's New York office as a litigation associate, focusing on white-collar crime, securities fraud litigation, and complex commercial litigation. After three years at Winston, she returned to the judiciary, this time as a Staff Attorney with the United States Court of Appeals for the Second Circuit. Rachael then became in-house corporate counsel, first for MetLife in New York and then for Blue Cross Blue Shield of Hawaii. Immediately prior to joining Boyd, Rachael served as in-house counsel for Viewbox Holdings, a small tech startup with offices in Las Vegas.
Rachael received her law degree from Georgetown University Law Center (GULC). While at GULC, she was a student attorney in the Family Advocacy Clinic, representing families pro bono in regulatory and administrative disputes involving special education issues. During law school, she also spent time studying in Singapore and working for a Singapore law firm. A retired Division-I basketball player, Rachael graduated from Fordham University, cum laude, with a BA in International Political Economy. Rachael received numerous student-athlete and leadership awards during her undergraduate years at Fordham.
Rachael is licensed in New York, California and the District of Columbia.