16th Annual Public Interest Law Association Auction
Reynolds Hall Lobby at The Smith Center for the Performing Arts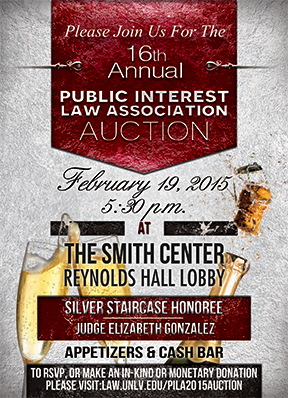 The 16th Annual Public Interest Law Association (PILA) Fundraiser Auction will be held on Thursday, February 19, 2015 from 5:30 to 8:30 p.m. at The Smith Center for the Performing Arts in the Reynolds Hall Lobby.
Every year, PILA has honored a member of the legal community for their commitment to public interest. This year's honoree is Judge Elizabeth Gonzalez.
The purpose of the auction is to raise funding for summer internship grants for Boyd students working in the public sector. For more about PILA's Summer Public Interest Grant Program, click here. If you are interested in helping PILA, click here to see our ways to contribute, e-mail us, or give directly online (under "Designation" choose "Other" and write in "PILA Auction").
Registration
To RSVP for this event, click here.
A BIG Thank You To Our Sponsors:
PILA Full Grant Sponsors:
Brownstein Hyatt Farber Schreck, LLP
Platinum Donors:
Esquire Deposition Solutions, LLC
Tom Thomas, Thomas & Mack Co.
Gold Donors:
Lee Hernandez Landrum Garofalo
Legal Aid Center of Southern Nevada
Lipson Neilson Cole Seltzer Garin
R C W | Ryan Carvalho & White LLP
Silver Donors:
Bronze Donors:
Becky Pintar, Pintar Albiston LLP
George C. Swarts, Swarts & Swarts CPA's
Silent or Live Auction Items **Items will be added to this list as confirmed**
3-Month Silver Membership to the Foundation Room (Fair Market Value: $562)
Five (5) 4-person race cards at Fast Lap Indoor Kart Racing (FMV: $100)
Two (2) $25 gift cards to Collage.com (FMV: $50)
$100 gift certificate for food & beverages to Dal Toro Ristorante (FMV: $100)
Four (4) $5-$12 Las Vegas Tour Packages from Stray Boots (FMV: $20-$48)
A Hot Air Balloon Ride for 2 people from Las Vegas Balloon Rides (FMV: $690)
A gift certificate for a Laser Genesis Treatment from Valhalla Med Spa (FMV: $225)
A gift certificate for 2 people to join a single 90-minute flying trapeze class at Trapeze Las Vegas (FMV: $120)
A gift certificate for 2 people to join a single 60-minute Aerial Arts 101 class at Trapeze Las Vegas (FMV: $100)
Two (2) tickets for an all-inclusive wine tour including gourmet lunch from Imbibe Tours (FMV: $250)
51's Baseball Prize Pack (including: baseball signed by team, bobblehead, jacket, 3 different hats, tote bag)
Basket from Tide Dry Cleaners (FMV: $150)
One (1) Men's & One (1) Women's high-end energy bracelets from Ionic Shield (FMV: $400)
Four (4) Rounds of Golf and Four (4) Range Passes from TaylorMade Golf Experience (FMV: $120)
$50 gift card for Jason's Deli (FMV: $50)
One (1) Month Membership to Camp Rhino, One (1) Month Membership to Rhino Crossfit, & One (1) Month Membership to Boot Camp Las Vegas from Camp Rhino (FMV: $385)
A Photo Blanket from Photoweavers (FMV: $128)
An 8-Week Gymnastics Session from Vitaly Scherbo School of Gymnastics (FMV: $145)
Three (3) Veterinary Exams from Sunridge Animal Hospital (FMV: $200)
$50 gift certificate to Zazzle (FMV: $50)
A gift certificate for one (1) eye exam and $200 towards eyewear from Dr. Duggan & Dr. Khakshooy at Envision Eyecare (FMV: $310)
A baseball signed by Kevin Jepsen, formerly of The Los Angeles Angels, currently of The Tampa Bay Rays
Private Wine Tasting for 20 people from Total Wine & More in Henderson, NV (FMV: $500)
Carpet Cleaning for 3 Rooms from Under the Rug Cleaning (FMV: $90)
$20 gift certificate and t-shirt from Sunrise Cafe (FMV: $30)
Two (2) $25 gift cards from King's Fish House (FMV: $50)
Four (4) Tickets to Penn & Teller (FMV: $423)
3 day / 2 night stay with breakfast at Westin Lake Las Vegas Resort and Spa
Trip in the Dark and Fortune's Trail, books written and donated by Kaaran Thomas (FMV: $23.78)
Four (4) hours of concierge business consulting from Wulf Business Solutions (FMV: $300)
Basket from Prestige Cruises (FMV: $30)
$100 gift card from Blue Martini (FMV: $100)
$25 gift card from Color Me Mine in Henderson (FMV: $25)
Wine Basket donated by Carlyon Law Group (FMV: $120)
Two (2) Wing Parties (2 gift certificates for 50 wings each) from Buffalo Wild Wings on Eastern Ave. and Coronado Center Dr. (FMV: $100)
$20 gift certificate to GourmetGiftBaskets.com (FMV: $20)
Two (2) $25 gift cards from Stephano's Mediterranean Grill (FMV: $50)
$100 gift certificate from Ferraro's (FMV: $100)
A gel manicure from New Horizon Nails & Spa (FMV: $40)
Dinner for two (up to $100) at Firefly (FMV: $100)
13" Gemstone Globe with Black Opal Opalite Ocian and Antique Silver Commander 3-Leg Table Stand from Alexander Kalifano (FMV: $384)
Four (4) Tickets to the Feb. 25, 2015, UNLV Running Rebels Basketball game vs. Wyoming donated by the Southern Nevada Association of Women Attorneys (SNAWA) (FMV: $133.76)
Two (2) $25 gift cards from Egg Works (FMV: $50)
An 80-minute massage at Ritual Salon and Spa (FMV: $145)
Two (2) car details and five (5) oil changes from Findlay Honda Henderson (FMV: $575)
Two (2) $25 gift cards from Freed's Bakery (FMV: $50)
A 6-Month Membership gift certificate to BodyHeat Hot Pilates & Yoga (FMV: $599)
$25 gift card from Chili's on Rainbow & 215 (FMV: $25)
1-night stay in a terrace studio room & $100 dining credit from The Cosmopolitan of Las Vegas (FMV: $400)
Two (2) $25 gift certificates from Boulevard Bar & Grill (FMV: $50)
Two (2) $30 gift certificates from Paint & Party (FMV: $60)
$69 gift card with stuffed animal beaver from Box (FMV: $80)
$100 bar tab, 1 male sweatshirt, & 1 female sweatshirt from Atomic Liquors (FMV: $150)
Art of Appreciation Gift Basket Well Stocked Gourmet Basket with Smoked Salmon donated by Assemblywoman Ellen Spiegel (FMV: $63)
$150 gift certificate from The Palm Restaurant (FMV: $150)
A certificate for Two Single Flights and One DVD from Vegas Indoor Skydiving (FMV: $175)
$100 gift certificate from Bar + Bistro @ The Arts Factory (FMV: $100)
$100 gift certificate from LAVO (FMV: $100)
$300 gift certificate from Erika Epley Theile Photography (FMV: $300)
Southern Nevada Golf Passport from Southern Nevada Golf Association (FMV: $99)
Student-Only Auction Items
A Bar Prep Course from Kaplan (FMV: $3500)
Two (2) $1,000 gift certificates toward a bar prep course from Barbri (FMV: $1000 each) (must be bought and used separately)
Dean Hamilton will take 4 students to the March 4, 2015, Running Rebels Basketball game vs. San Diego State, including dinner before at the Si Redd Room
Professor Nancy Rapoport and her husband Jeff Van Niel - dinner for 4 students at Pasta Shop & Ristorante
Boyd Alumni & County Public Defenders John Piro, Rafael Nones, & Robert O'Brien - "Redneck Breakfast" for 4 students (breakfast at the World Famous Coffee Cup in Boulder City, followed by shooting at the Pro Gun Club)
Judge Susan Johnson - dinner for student plus guest at Todd's Unique Dining Wine Night (5 course meal with wine pairing)
Professors McGinley & Stempel - dinner for 4 students at a nice local restaurant
Professors Sternlight & Lazos - dinner and drinks for 4 students at their home
Professor Kagan - an evening of street food in Chinatown (including Japanese Curry & Shaved Ice Cream) for 6 students
Jennifer Roberts - lunch for 4 students
Professor Carr - dinner for 4 students at Lotus of Siam
Judge Frank Sullivan - dinner for 4 students
Family Court Judge Linda Marquis, Municipal Court Judge Heidi Almase, & Justice of the Peace Cynthia Cruz - "Lunch with Rebel Judges" - lunch for 4 students with Boyd School of Law alumni in the judiciary
Professor Tanenhaus - a 51's baseball game for 4 students
Professor Lipman - lunch at the Las Vegas Country Club (LVCC) for 4 students and an additional faculty member of their choice
Professors Johnson & Morrison - an evening of bowling for 6 students
Barbara Buckley & Catherine Cortez-Masto - lunch for 4 students at Triple George
Nevada Supreme Court Justice Nancy M. Saitta - lunch for 4 students
Nevada Supreme Court Justice Michael A. Cherry - lunch for 4 students
Professors Marouf & Nussbaum - breakfast with 4 students at The Four Seasons Hotel Las Vegas Veranda before 5/15/15
"Ghostly Karaoke Defender Bus Tour" - 4 seats for students-only, 4 seats for professors/staff-only on the ultimate Party Bus to a Ghost Town to sing karaoke and drink in the oldest (& haunted) bar in Southern Nevada with 25 County Public Defenders

//php print $links; ?>