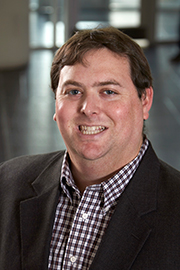 "Casino law is a really interesting and exciting area of the law, and there is no better place to learn about the industry than Las Vegas. Having an LL.M. is a great asset to any attorney."
-Jordan Hollander, gaming law LL.M. inaugural class member
Why should I pursue an LL.M. in Gaming Law?
The gaming industry is primed for rapid growth, making a career in gaming law both educationally and professionally rewarding.
Global Growth. Commercial casinos are a booming multi-billion dollar industry within the United States. The industry continues to flourish worldwide, with Macau alone generating over $40 billion in revenue in 2013.
Career Development. As the industry grows, so will the need for lawyers with working knowledge of gaming law.
Why should I pursue my LL.M. at the William S. Boyd School of Law?
Location. You will have exposure to the most successful, thoughtful and influential gaming leaders in the world, plus access to more gaming courses than any other law school in the country.
Academic Community. The LL.M. program builds on successful collaborations with the William F. Harrah College of Hotel Administration, the International Gaming Institute, and the Center for Gaming Research.
Current Research. UNLV faculty are engaged in cutting-edge research on gaming issues including problem gambling, employment law, data management, and many others.
Perks of going to school in Las Vegas
Low cost of living, affordable housing, and no state tax
International destination with world-class dining, entertainment, shopping, and nightlife
Easy access to recreational and outdoor activities