"The Law of Gambling and Regulated Gaming -- Third Edition" by Anthony N. Cabot and Keith C. Miller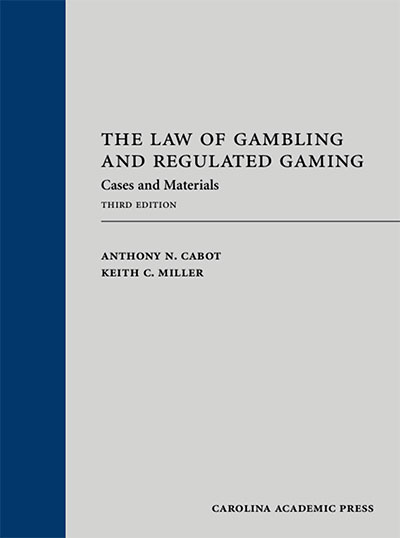 Gaming law continues to be one of the most compelling areas of law in the United States and globally. Since we published the second edition of our casebook in 2015, there have been numerous developments that a gaming law student needs to understand. Sports betting has become available in many states, creating challenging issues of how to best regulate that activity. Internet gambling continues its slow growth in states even as the U.S. Department of Justice dusts off a decades-old law to contest that form of gambling. As Indian gaming continues its growth, it also presents various legal, cultural, and political issues that defy easy resolution. The globalization of gambling has created new problems for governments seeking to prevent the activity from being used to engage in money laundering.
In addition to bringing these issues to life, this third edition retains a solid foundation in its examination of the core regulatory structure of gaming. Statutes and regulations dominate gaming law. The inclusion of these primary materials is an essential lesson for students that judicial opinions are not the only place to find the law.
This third edition of the casebook offers several features that will promote student engagement in the material and provide resources to the instructor. Numerous discussion problems enhance the students' understanding of gaming law; many problems incorporate legal ethics and public policy perspectives. For example, how should regulators evaluate a license applicant who has sound business acumen but also has a history of expressing racist views?
Instructor Resources
For the instructor, the Teachers Manual, Sample PowerPoints, and Sample Test Questions found in the left nevigation are password protected. Please contact ...
This third edition is a resource for students and faculty alike. Most significantly, the new edition continues to illustrate that gaming is one of the most dynamic, fluid, and policy-oriented areas of law a student will ever encounter in law school.
Sample PowerPoints
We include sets of slides we have used to cover a variety of issues. They are organized below by chapter. Slides can perform a number of functions, and we have found that how they are used is very much a matter of personal preference. We strongly encourage you to refer to the Teacher's Manual for the book before using the slides or adapting them. The Teacher's Manual will tease out issues in far more detail than the slides. Also, some of the slides were developed over several years of classes so they don't always track along exactly with the book's coverage. Ultimately, we intend that the slides be a way of assisting a teacher in preparing his or her own slides. If a professor eschews the use of slides the material contained on the slides may still be useful. For the 3rd edition (published in 2021) we will also periodically be posting new sets of slides. Let us know if you have questions about the slides.