"Principles of Insurance Law -- Fifth Edition" by Jeffrey W. Stempel, Erik S. Knutsen, and Peter N. Swisher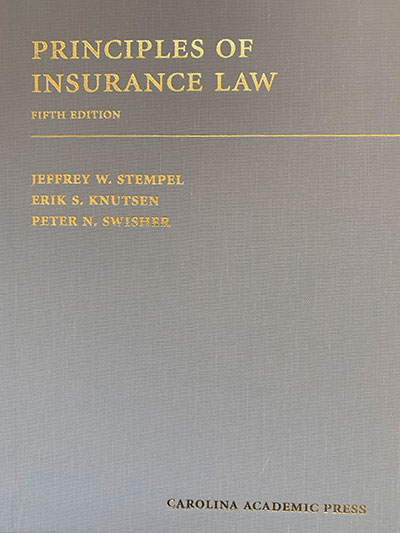 Principles of Insurance Law, now in its Fifth Edition, continues to provide a broad but thorough overview of important insurance concepts and basic insurance law doctrine as well as insight into particular lines of insurance and important insurance concepts such as government regulation, claims handling, insurer bad faith, policy interpretation. Excess, umbrella, and reinsurance is also addressed.
At roughly 1,000 pages, Principles resists the excessive condensation (and really small typeface) that has affected some textbooks while also avoiding undue length. Although packed with illustrative cases, Principles also contains extensive narrative analysis to orient and guide students. Each of the 13 chapters of the casebook includes both short and long problems that can be used for class discussion or written assignments.
Instructors may use the casebook's extensive Teacher's Manual, which includes additional analysis, additional cases, and additional discussion problems. Instructors may also obtain sample quizzes and assignments that can be distributed to students.
Readily available on the website – by scrolling down the left margin – for both instructors and students are PowerPoint presentations for each Chapter, Additional Problems and Exercises for class discussion, and Sample Insurance Policies. In addition, the website will contain additional cases that an instructor may use to supplement the casebook or in lieu of cases excerpted in the casebook as well as additional enrichment materials such as links to scholarly articles and news reports regarding insurance.
The authors will also be updating the website with discussions of recent cases of interest and importance as well a maintaining an occasional blog commenting on recent insurance developments and issues.
We hope you enjoy the materials on this website and that instructors will consider choosing Principles of Insurance Law as their preferred coursebook. Instructors may obtain a copy of the Teacher's Manual, Sample Problems or Exercises for Class, Sample Quizzes or Sample Syllabii by contacting either of us at jeff.stempel@unlv.edu or knutsen@queensu.ca. Please also contact either of us with suggestions or questions. Thanks for your interest in Principles of Insurance Law.
Future Content
Watch this space for following future content:
Additional Cases for Teaching
Scholarly Insurance Articles
News Articles About Insurance
Recent Cases of Interest
Author Observations Blog
Teacher's Manual
The Teacher's Manual is available for course adoptions. Please contact Carolina Press at (919) 489-7486 or by emailing sean.m.caldwell@caplaw.com.