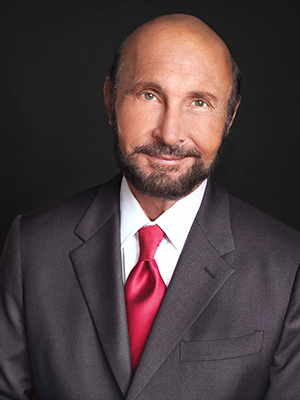 By Steve Bornfeld
Upon learning what Washington said, his sense of moral obligation called Ed.
"After analyzing Trump's position on immigration, it wasn't a surprise to me," says longtime attorney Ed Bernstein, whose firm, Edward M. Bernstein & Associates, reacted to the administration's yanking of an AmeriCorps initiative—which provided funding for lawyers of unaccompanied immigrant children—by donating $250,000 to the UNLV William S. Boyd School of Law's Immigration Clinic. Bernstein's generosity will keep the clinic operating for five more years starting November 1, the day after federal funding expires.
"These kids are the most vulnerable victims of a policy that doesn't make a whole lot of sense. We try to keep terrorists out of the country, which has nothing to do with trying to keep 6-year-olds out."
Las Vegans know Bernstein from his TV ads, which end with the tagline "Enough Said, Call Ed." They also know him from his eponymous weekly TV talk show (at 28 seasons, it's the state's longest-running program). Zeroing in on his legal career, he should also be known for his myriad court victories (representing clients in the MGM and Hilton fires, PEPCON explosion, and hepatitis outbreak scandal); political accomplishments (a U.S. Senate campaign and stint as a judge pro tem); and championing of civic/philanthropic causes (raising funds and awareness for the Crohn's and Colitis Foundation of America, Mothers Against Drunk Driving, and the Clark County School District).
"My wife (Claudia) is Peruvian; she came here 25 years ago. So immigration issues are near and dear to my heart, as is anything having to do with civil liberties and law-related issues," Bernstein says. "It was a natural combination for me since it involved children. Claudia has been really active at the clinic working with the kids."
Indeed, assisting the clinic's Kids' Court School—which she describes as a "mock trial" simulation—Claudia Bernstein pre-pares children for their courtroom experience in hopes of relieving their anxiety.
"When children go to court, they get scared; they think they did something wrong," says Claudia Bernstein, whose work as a life coach enhances her effectiveness. "We explain the process. We don't coach them on what they are going to say, because they are instructed to tell the truth. But when they go to court, they are not scared by the environment, and they're aware the system is going to protect them, [so] they don't feel as vulnerable."
Occasionally during actual testimony, other abuses against children are revealed. "It's heartbreaking," she says. Her husband points out a harsh reality: "Some of these kids are as young as 4 years old, and sometimes if they get sent back [to their native country], they are raped and murdered. In addition to their legal status, we're looking to save their lives."
Enough said. That's Ed.