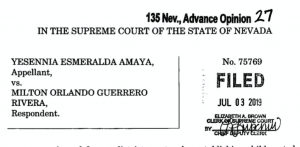 Congratulations to our alum Alissa Cooley for winning a published NV Supreme Court opinion in Amaya v. Guerrero Rivera, clarifying that Nevada family courts have jurisdiction to issue Special Immigrant Juvenile (SIJ) findings to protect immigrant kids who were the victims of abuse, neglect or abandonment.
Alissa is both our alum and (with Katelyn Leese) one of our founding justice AmeriCorps fellows. They got us started working with unaccompanied children. Here is a profile of their work from the Las Vegas Review Journal, from 2016. Suffice it to say, Katelyn and Alissa have been fighting this battle for a long time, and had to overcome a great deal of resistance and doubt. And now, it's settled law.
The decision is available here, and is on Westlaw.This Opinion clarifies several issues that have long been a problem in Nevada family courts, where some judges have doubted whether they can issue the findings that immigrant kids need. The Supreme Court said clearly: They can, and they should. The types of findings required from a family court for an SIJ application are within the well-established jurisdiction of the court. And, importantly, a child must only show that reunification with one parent is impossible (not both) -- the same standard used in federal law in these cases.