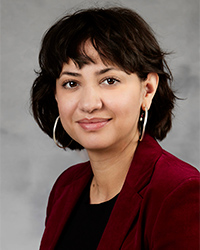 By Michael Kagan
Our Senior Bernstein Fellow Martha Menendez is leaving her current role the Immigration Clinic. She will be taking a new job as legal manager for Justice in Motion, an international migrant rights organization.
Martha told me not long ago that she wanted to leave the clinic in better shape than when she started her job. Among the many things for which I am grateful to Martha, it's a fairly obscure task that really stands out in my mind. Last year, Martha analyzed several proposed Trump Administration regulations closed doors to immigrants, and drafted official responses for the clinic, part of the government's notice and comment process for proposed regulations.
It was important for the clinic to register our objections officially, both to advocate for the people we serve and to bear witness. It was also important inside our office. Martha trained the rest of the clinic staff on what was in store for our clients with the new regulations.
For someone like Martha, who knows both the law and the people affected, reading those proposals was staring into darkness. Every sub-clause was an intentional infliction of harm on a person, often on people we know. A lawyer's job sometimes is to digest those details and then explain them to others, and it can feel like taking an injection of poison. If I may be blunt, I am grateful to Martha for doing that, because I did not have the stomach. She did.
It was also through those notice and comment analyses that I learned what a writer she is. Of course, this is no longer a secret. Martha is now a regular columnist for The Nevada Independent. She turns words into a gut punch. It's pretty cool now to say I know Martha Menendez.
Martha was responsible for defending dozens of unaccompanied children against removal. She was able to shepherd quite number to happy endings, and there are more of those in the pipeline. She also had to guide them through a pandemic in which no part of the immigration system functioned normally.
The pandemic also meant that she was our senior fellow at a time when our clinic could not function normally either. This highlighted the other aspect of working with her for which I will be forever grateful, and which cannot easily be seen publicly: She is calm without losing her passion, and she gives fantastic advise. A discrete conversation with Martha Menendez makes anyone else's work 25 percent better. It makes my work 25 percent better. This is why I am happy to have secured a commitment from Martha to not block my phone calls in the future :).
Martha is not leaving Las Vegas, and that's a good thing. And I am happy to report that Martha will stay involved in the clinic (more on that coming soon). But I will still miss working her every day.
She is leaving us better than she found us.