Thank you to Laura Barrera
A transformative force in our clinic.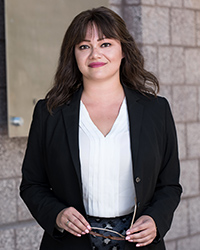 By Michael Kagan
Director, UNLV Immigration Clinic
We have reached a sad moment. Next week, Bernstein Fellow Laura Barrera is leaving the UNLV Immigration Clinic. She is going to Tucson, where she will work with the Florence Immigrant and Refugee Rights Project to defend detained immigrant children. Those who have seen our work up close over the past two years know that a substantial portion of what the UNLV Immigration Clinic has done has been Laura's doing.
In 2016, we hired Laura from her beloved home state of Michigan to take over the AmeriCorps project that we had at the time, defending children who fled violence in Central America. The next year, when we launched the Edward M. Bernstein & Associates Children's Rights Program, she became our first Bernstein Fellow. She took over dozens of active cases, and started new ones. She also took it on herself to expand our connections with providers of medical and mental health services, and opened doors to services in the public schools for her clients.
Like all immigrant rights advocates working right now, Laura has known that her clients are caught in the middle of a tumultuous national struggle over the place of immigrants in American society. But she never let anyone forget that we are fighting for children, one child at a time. She noticed that while she was rehearsing legal arguments before court hearings, the children she represented were excited just get to press the buttons in the elevator up to the Las Vegas Immigration Court. She watched how they were proud to tie their own shoes. She caught these details, and told the world, in person, on social media and on CNN. She made it real. And then Laura set her mind to the lawyer's task of trying to keep these children safe. On many days it is not an easy struggle.
Laura's primary job was to represent children, but she did far more than that for the UNLV Immigration Clinic, for students at UNLV and for the people of Las Vegas. In the Fall of 2018, Laura co-taught the Immigration Clinic with me, and she changed how we teach it in ways large and small. I will be grateful to her for that for a long time. She supervised our first social work graduate placement, which opened our eyes to ways we can improve our services to our clients, and also helped us address the stresses of legal work for our students. Ask any of our 2018-19 student attorneys: Laura is a gifted teacher. I sincerely hope she returns to teaching in the future.
Last May, Laura went to Tijuana, and brought back to Las Vegas a personal view of the plight of migrants stranded trying to seek asylum in the United States. She pushed for us to do more about immigrants detained without lawyers in Southern Nevada, and took on some of our most notable such cases. She initiated our expanding practice in federal district court. She traveled to Texas to help a father be re-united with his five-year-old daughter.
Back in 2017, when the Trump Administration announced plans to end the DACA program, Laura asked to organize law students to help do renewal applications, which had to be done fast. We had never done anything like that, and I was frankly worried if we could manage it. Nevertheless, Laura had dozens of student volunteers trained within a week. We are still running this program today. It has helped dozens of Nevadans keep their dreams alive. And it has given us new ideas about how we can give more UNLV students real world experience and the chance to serve their community
I could go on with other examples of Laura's contributions. But hopefully you get the point. She has been a transformative force in our clinic. It is time to say: Thank you. Like the kids she represented, we have been very lucky.