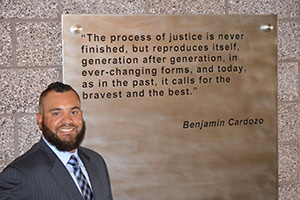 Attending law school is stressful. Attending law school and heading to a new city can make things even more stressful. Most people know of Las Vegas as a place where you can go to party all night long, hitting up different nightclubs and going to different bars. There is much more to Las Vegas than some of those people realize. Here are some interesting things you can do outside of the party scene while in Las Vegas for law school that can help you relieve some of that stress:
Go to the movies. In Las Vegas there are movie theaters all around. You can go see an IMAX movies in different theaters around. You can also head to theaters such as the AMC Promenade or Cannery Casino Theaters which have reclining leather seats to help relax and be comfortable watching the movie. And as a bonus, they also serve alcohol. So if you wanted a drink while you watch the movie, you're set. Many of the theaters also offer student discounts if you provide your student ID (rebel card).
Learn something new. There are many different museums in the city of Las Vegas that you can learn about something new. For example, there is the Mob Museum in which you can go to learn more about the mob and find out some history about the mob in Las Vegas. Additionally, there is the Pinball museum, the Atomic Testing Museum, the Titanic Exhibit, and the Bodies Exhibit, among many others. There is also the opportunity to check out some famous art pieces with different art galleries to check out. A handful of these art museums can be found in the local casinos, like the Bellagio Art Museum and there is another one in the Forum Shops of Caesars Palace.
Get outside. Las Vegas is a valley surrounded by mountains. These mountains give the opportunity to get outside and enjoy some fresh air. With Mt. Charleston and Red Rock just on the outskirts of Las Vegas it's not that long of a drive to head out there and take up some of the hiking trails or enjoy a picnic. If you have kids another great thing to check out is Bonnie Springs. At Bonnie Springs you can visit the petting zoo and check out Old Town, seen on Ghost Adventures. There is also Lake Mead, which will allow you to sit outside and have a picnic by the lake. On another note, if you're interested in hunting or fishing there are many places within a few hours of a drive that do offer the opportunity to hunting and fishing.
Time for sports. In Las Vegas there is a lot of gambling including sports betting, but people don't realize all of the sporting events that happen in Las Vegas. First off, as far as professional sports go, there is a NASCAR race at the speedway every year, in addition to the Professional Bull Riding Finals that take place at the Thomas and Mack Center. There are a number of different sporting events that happen as well including the Mountain West tournament for NCAA basketball, the Las Vegas Royal Purple Bowl in December for NCAA football. There are also many league sports available to play if you are interested in any intramural style sports. Not only are there intramural sports through UNLV campus recreations, but there are also many intramural leagues throughout the city run by private companies as well as the city.
Entertainment Capital. Las Vegas is one of the best places for entertainment. There are shows going on nightly at different casinos on the trip. These shows include concerts by people like Celine Dion, to Cirque de Soleil's "Ka" or Caesar's Palace's "Absinthe." There are many opportunities for entertainment in Las Vegas that you won't get anywhere else. Furthermore, Las Vegas is host to a few different festivals. These festivals range from food festivals such as "Bite of Las Vegas" or the "Italian food Festival" to music festivals such as "Electric Daisy Carnival" or the Las Vegas only festival "Life is Beautiful."
There are many opportunities for students, even law students to relax and relieve some stress. By no means are these the only things to do in Las Vegas, but it will at least get you started to find out more that is offered. The only thing for you to do now is make some time to try relax and realize you can be a law student with a life in a city with so much to offer.