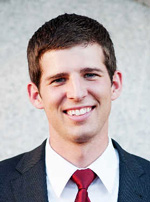 Graduate school attracts a wide variety of people, including those fresh from their undergraduate years and others who have taken either short or long breaks from school. Law school is no exception, and quite a few law students have careers and families they have to juggle. As a husband and new father to an infant daughter, coming back to school after a two year hiatus, I've had to prioritize and figure out the best plan of action for me and my family. Hopefully you can get a few ideas of your own from reading what I've done to keep a school/home balance.
The first thing I had to learn was that when I am home, I am home. This is often easier said than done. After reading cases all day, it is easy to let that take over your thoughts even when you are at home. It is important to be fully present while talking with a significant other and family members. My wife, bless her heart, had to sit me down after the first few weeks of school and tell me that I was zoning out or caught up in thinking about a case during conversations with her. I've since made a conscious effort to stay in the moment and enjoy those conversations and time spend with family. I had to start thinking of law school like the job I had before school, even if a more demanding and stressful job, which leads me to my next trick, doing school things at the school.
Now this one can be tricky. There have been multiple occasions where I've had to revise a memo or finish reading an assignment at home, but for the most part I do my studying at school. This helps me keep that separation in my head that will serve me well in post-school practice. I go early to the school and stay as long as I need in the afternoon/evening to get the work done before heading home. This keeps my stress level under control because I am not scrambling at 2 o'clock in the morning to finish assignments. This rule even carries over to the weekends. If I have studying to do on a Saturday, I make the trip to school to get it done. This rule has an added bonus of helping me get done quicker than if I was studying at home, because being at home I have a wife, daughter, Netflix, etc., to distract me. Although talking through an argument or section of a memo with my wife can be very helpful.
These types of situations are the only exceptions I make in my "no school at home" policy. I sometimes have a hard time framing an argument or writing in a way that makes sense to others. In these situations I ask my wife to take a look. A fresh set of non-lawyerly eyes has been extremely beneficial. It also helps my wife feel like she is taking part in the law school experience, without all the stress that comes with it, which can be a hard balance to strike.
Nothing can be more rewarding than a successful professional life in balance with a rewarding home life. Don't be afraid to sit down with family or your significant other and talk through what is working and what can work better for you during your time in law school. Having a good foundation set for that balance in school will make it that much easier after graduation.