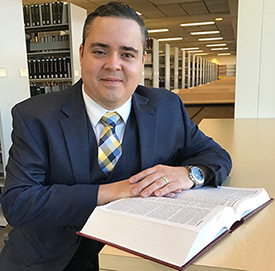 You've probably heard that law school is inherently stressful. The constant go, go, go could easily result in a nervous breakdown, among other health and wellness problems. However, before you even begin your journey at the William S. Boyd School of Law, you will find out that there are many programs and resources available to reduce stress and set you up for ultimate success. I argue that the best resource that you have is You! Only You know how your body and mind react to the stresses of daily life and only You know the best way to mitigate that stress.
One of the biggest fears I faced during my first semester at Boyd was falling behind and not being able to catch up by the time final exams started. Thanks to my late father's advice 20 years ago, this was not much of a problem for me. When Dad was teaching me how to cook, he would constantly say, "Son, make sure you always clean as you go." I guess his idea was that if I cleaned starting from the time I prepared the food until the food was served, I would not have to face a mountain of dishes by the time dinner was over. This made a lot of sense to me, especially because we did not enjoy the privilege of a dishwasher. The great thing about these small moments of parental advice from times past is that it also applies to many other aspects of life and law school is no exception.
If I was to translate Dad's advice to something useful to law students, I would say the mechanics are fairly simple: (1) take effective notes before and during class; (2) put in the time right after class to make sense of what you just went through; (3) jot these synthesized notes on paper or in your preferred word processing computer program document; (4) populate your outline after every block or unit of class; (5) rinse and repeat every school day.
It's okay if this sounds confusing, after all, what does it mean to take effective notes? What are effective notes? What is this outline thing? Do not worry. As you prepare to begin law school, you will learn the many methods of taking effective notes and what an outline is and how it is used. You will also learn many methods of preparing for class and for final exams.
No matter what method you choose to help you retain the incredible amount of information you will learn in your first semester, remember that you control whether or not you stay ahead. Just as adopting my father's advice in my first semester of law school helped me, remember to fall back on what you have learned in your lifetime so that you can find the best way to mitigate law school stress during your first semester and beyond. If at any point you feel like you are about to hit the proverbial brick wall, also remember that there are countless resources at your disposal
I will end this article with a plug of one such resource that will help you mitigate law school stress. The Boyd School of Law prides itself in providing, not only the best in legal services to disadvantaged members of our community through our legal clinic, but also the best mentorship to the student body. One of the resources I wish I would have taken more advantage of is the Center for Academic Success and Enrichment (CASE). During your first semester of law school, CASE will host a series of lessons designed to help you understand the intricacies and nuances of writing that memo and those final exams for an 'A.' I highly recommend you attend all of these great sessions. In addition, I encourage you to make appointments to sit down with CASE mentors to receive feedback about your memo and any practice exam questions you have completed.
For more information about CASE, click the link below to go to their page.
https://www.law.unlv.edu/academics/academic-success-program
- Homero Gonzalez (Class of 2019)