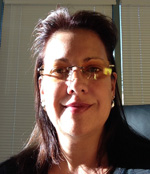 Final exams are just a few weeks away. I don't know about anyone else but I'm beginning to panic! So, I decided to do a little research on exam preparation to see if I could learn any tips or suggestions that would help soothe my nerves.
I spoke to a few current Boyd students and several Boyd alumni about final exams and asked for their tips and suggestions. I was given several ideas, including prepare a strong outline for each course, use flash cards as a study aid and sign up for online study aid courses such as Barbri. I did all that. I purchased commercial outline aids and drafted my outlines, I purchased flash cards for each of my subjects and I signed up for Barbri where I listened to lectures and took mock exam questions - but I still don't feel prepared. As a last resort, I turned to the internet and found a wonderful website: Lawyerist. Here are some tips I found there:
"(1) assess course expectations, (2) organize, memorize and master the course material, (3) practice, practice, practice, (4) rest your brain, and (5) take the exam with confidence."
All of these ideas are great suggestions and all of it is fairly common sense. In fact, we have all probably heard these tips, as well as other various ways to study and prepare, and any of these things can be useful. Still, knowing all of this doesn't make me feel any less panicky whenever I think about how close we are to taking our final exams, which is every other minute at this point.
However, maybe I am going about this all wrong. Maybe stress and pressure are good things. Maybe it motivates us to study harder, learn more and, ultimately, be more successful on our exams. So perhaps the best way to deal with final exams is to use our pre-exam panic to energize us to do everything we can to prepare. For me, I am going to follow all of the suggestions that make sense for me. I'm going to learn the material as best as possible and give the exams my best shot. And, in the meantime, I'm going to try to keep the panic to a minimum. I might even find time to rest my brain – maybe – if I ever figure out how. I imagine it would look something like my puppy Coco taking a nap…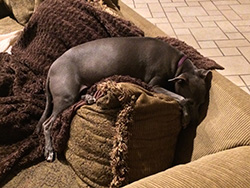 I wish you the best of luck on your final exams this semester and I hope you find time to rest your brain too!
Works Cited
Lawyerist. (n.d.). Closed Book Law School Exam Preparation Tips. Retrieved October 22, 2015, from Lawyerist: https://lawyerist.com/2017/closed-book-law-school-exam-preparation-tips/