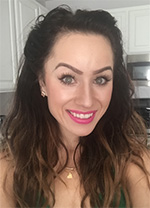 "How do you do it?"
I've been asked about a zillions times about being a full time parent and full time student in law school. My reply, "You just do it."
That may seem a bit smug, but to me, it's far more nuanced. Let me explain.
I cannot describe the maelstrom of thoughts, while I am trying to stay on top of my workload at law school, and be present with my child when I am with her. I am finding that being a mother and a law student has been nothing short of a gift. Not only am I showing my daughter that she can do anything in life that she desires, I am also learning that with time being so valuable, organizing my time is paramount. It keeps me, well, organized, but eases my stress, manages my familial and academic schedule, and generally facilitates the quality of the time I spend with my daughter.
Initially, the thought of going to law school while being a mom was beyond scary to me. I wasn't sure how well I was going to manage the day-to-day responsibilities, let alone succeed; once I was immersed, it wasn't scary; if anything, it was enlightening and informative. I am not saying it is easy, by any means, but it is possible to succeed as a parent, and strive for excellence as a law student. Think of it this way: desire and drive work symbiotically and inherently from the git go; you see the reason for your hard work day after day, in the form of a tiny human that looks to you for everything. Suddenly, the relentless reading that blurred your vision the night before and the social life that consists of treks to the library or group work, become secondary to the directive at hand, and that is to create a life of possibility for your child, something that parents have wanted for their children since the beginning of time.
The student and faculty community at Boyd has embraced my situation and further, Boyd respects and appreciates diverse backgrounds. That is one of the reasons why I found Boyd so appealing. It is also important to have strong family support as much as possible, whenever possible, and options for childcare.
Motherhood and law student-hood have collaboratively forced me to compartmentalize and categorize aspects of my life. Being present is the most important thing. My presence at school enables me to focus and remember why I am here in the first place. My presence at home helps me remember that playing is good for the soul and teaches me that little moments are just as important, if not more, than the big ones. Remember, being present does not mean you don't show up in other areas of your life, but it means you must be conscious of where you are and why you are there at that moment. That helps you organize your time and your workload. Everyone's learning experience is going to be different, however I can promise you that time management will be one of your biggest allies in this journey. Even if you aren't a parent, managing your law school life and personal life is always a balance that requires mindful presence in both.
Being a parent and being a law student is a collaboration. Like any other effective collaboration, the whole is greater than the sum of the parts. This balancing act between being a good parent and being a good law student creates a sustainable, lifelong set of skills that I know I will call upon time and again…and, it's priceless.