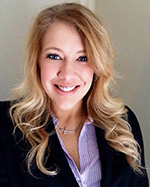 Sin City-- not a place that many picture as the place to get their legal education (unless maybe you want to do criminal prosecution or defense), and usually not a place someone pictures themselves living in either. I can't say that I was any different, but what I can say is that I'm so glad I kept an open mind to it... Because right now I can't picture myself any place else.

I'm from Reno, born and raised. And if you aren't from Nevada, let me just fill you in. There is a big divide between the North and the South (Freemont Cannon anyone?). So growing up in Reno, I always thought of Las Vegas as this horrible, hot place, only to be a destination when you turned 21. So when it came to me deciding where to pursue my legal education, you can imagine I didn't look too highly upon it. Boy, was I wrong.

There is so much about Las Vegas that makes it an excellent place to go to law school. As much as I thought I would be in a library for three solid years, I quickly learned that if I wanted to not burn myself out before I even started my career, I was going to have to learn to take study breaks and time for myself. And in Las Vegas, there is always a new restaurant to try, or a new bar to grab a happy hour drink at, or concert to see, or stores to go to (shoutout to the shopping addicts like myself). Additionally, Zion National Park and The Grand Canyon are just a day trip away. The opportunities are endless. And the opportunities don't end when your study break does. The legal community in Las Vegas, and really in all of Nevada, is the friendliest group of people. Everyone is so willing to give you advice, a contact, or just a smile. Additionally, being the only law school in the state, the opportunities outside the classroom are endless. Las Vegas is a pretty big market for jobs and it's still growing.

So if you're someone who writes off Las Vegas (pun intended... Our writing program is ranked 3rd in the country. Looking at you, Harvard!) as a place to go to law school because of the stigma of it... Seriously, don't. Coming from someone who was so close to doing the same... And now is so much happier with their decision than they ever could have imagined.