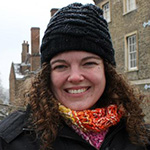 You've been admitted to and have decided to attend the William S. Boyd School of Law! If you're like me, your excitement may swiftly become tinged with a sense of, "Now what?" Your first semester of law school can begin to seem like a daunting event looming darkly in the distance. Luckily, there are many actions you can take until then to clear out those cobwebs of confusion and make your first semester a little less scary. My personal recommendations for staying productive and sane during the summer before your 1L year are to read, reach out, and relax.
Read:
Dean Frank Durand will send out a recommended reading list compiled by Boyd faculty during the summer. Check out some of the books- especially the ones about studying for law school. Books I found particularly helpful are:

Law School Without Fear: Strategies for Success, by: Helene and Marshall Shapo
Reading Like a Lawyer: Time-Saving Strategies for Reading Law Like an Expert, by: Ruth Ann McKinney
1L of a Ride: A Well-Traveled Professor's Roadmap to Success in the First Year of Law School, by: Andrew J. McClurg

Read for fun, too. At Boyd's Admitted Students Day, my eventual civil procedure Professor, Thomas Main, told me it doesn't matter so much what you're reading, as long as you're reading often. While books that require more effort to read are best because they will keep your brain active and make the transition to law school reading smoother, don't hesitate to throw in some books that have no other purpose than pure enjoyment.
Get used to reading for many hours a day. The closer you get to your first day of school, the longer your reading sessions should become. Once school starts, you will be reading at least 3-4 hours a day. Help yourself with that transition, and build up to that gradually.
Reach Out:
Dean Durand will invite you to meet and talk with him before school starts. Take him up on it! He is a great resource, and he loves to help students succeed.
A student ambassador will contact you. Use them. Ask them any and all questions you have about law school. No question is too silly. I had so many questions, right down to what I should wear on the first day of orientation!
Do you know anyone in the law community? Does someone you know know anyone in the law community? Ask around. You never know who you can get in touch with. You may end up having a valuable discussion about law school in general or life at Boyd in particular. Even better, you could get a summer job out of it! You never know, so don't be afraid to ask.
Relax:
Take time to be with your friends and family. You won't have to disappear completely from their lives once school starts (at least until you get closer to finals), but you will definitely see less of them and will have to say no to invitations.
If you can, take a vacation. Go somewhere you've always wanted to go. Chances are, you won't be able to go out of town very much once school starts, and during breaks you'll be working. This is the last time you'll have complete control over your schedule for a while, so take advantage of it.
Enjoy your hobbies. As with your friends and family, you will have less time to enjoy activities outside of law school. If there are hobbies you'd like to continue during law school, make sure to get into a solid routine before classes start so it will be easier for you to fit it in amidst your busy schedule.
Plan. If you're like me, planning is relaxing. Plus, planning will make your transition into law school easier. Go shopping for business casual, professional, and cocktail clothing. Take care of any loose ends regarding finances and household concerns. If you're coming from out of town, secure housing, a roommate, and explore so you know where you'll do your grocery shopping and get your gas. Buy your books early, get school supplies, and once you have your school schedule, try to plan when you'll work out.
The summer before 1L year will be busy and maybe even a little scary, but don't forget to make it fun. Remember, you won't meet Medusa, so nothing is set in stone. You can always address and rearrange your plans to change what isn't working. Law school is a process of finding what works, and you will figure it out just like every other law student. Before you know it, you'll be able to look at all your law school Freddy Krueger fears in the face and say, "I take back all the energy I gave you. You're nothing!" and reunite with your friends and family. But beware, there is always next year...