When
Wednesday, March 11, 2020 -
Where
Beverly Rogers Literature and Law Building - 4th floor-Faculty Lounge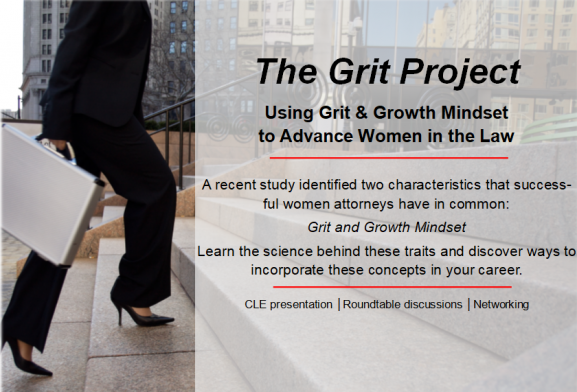 Wednesday, March 11, 2020
5:30 - 7:05 PM
Beverly Rogers Literature & Law Building (RLL) 4th Floor Faculty Lounge
Approved for 1.5 hours of CLE credit
Presented by
Southern Nevada Association of Women Attorneys and the
William S. Boyd School of Law Organization of Women Law Students
Click here to register
(space is limited)
Overview
A study of women lawyers in AmLaw 200 firms showed a strong, statistically significant relationship between grit and success for women in BigLaw. The research also found that many successful women lawyers display growth mindset characteristics and rely heavily on those characteristics to navigate challenging workplace situations such as their responses to negative feedback and the sometimes overwhelming pace and volume of the work itself. The most exciting news about grit and mindset is that most experts agree that these traits can be learned and developed given the right conditions. The first step is educating women lawyers about these traits, and other traits within their control, that can lead to success.
This program will educate participants about the science behind grit and growth mindset, provide attendees with tools to assess their levels of grit and growth mindset, and offer practical ways to incorporate these concepts in law school career development, attorney performance evaluations, and professional development programs. In addition, grit and growth mindset will be directly applied to situations women attorneys find themselves in while practicing law such as arguing a deposition, making a pitch, seeking a motion, and handling a heavy workload. Ultimately, woman can leverage these traits to enhance their effectiveness, to ensure competence, to improve communication between attorney and client, and to advocate zealously on behalf of the client.
Attorneys and students will be discussing the program scenarios in small groups facilitated by experienced female attorneys and judges.
Moderator
Rachael Reese Adair
Agenda
5:30-5:35 Welcome and Introductions
5:35-5:50 Presentation on grit and mindset research
5:50-6:15 Presentation of Scenario 1: Struggling with Workload
6:15-6:40 Presentation of Scenario 2: Lost Motion
6:40-7:05 Presentation of Scenario 3: Bullying in a Deposition
7:05 Closing Remarks