When
Thursday, December 4, 2014 -
Where
BSL Thomas and Mack Moot Court Facility

Webcast: Watch here.
Kenneth Feinberg
Kenneth R. Feinberg has been key to resolving many of our nation's most challenging and widely known disputes. He is best known for serving as the Special Master of the Federal September 11th Victim Compensation Fund of 2001. He shared his extraordinary experience in his book What Is Life Worth?, published in 2005 by Public Affairs Press. He later became Fund Administrator for the Hokie Spirit Memorial Fund following the tragic shootings at Virginia Tech. He was appointed Special Master of TARP Executive Compensation by the Secretary of the Treasury in 2010. He is the former Administrator of the Gulf Coast Claims Facility, established by the Obama Administration to process claims for compensation arising out of the Gulf of Mexico oil spill in 2010, and previously served as Special Master in the Federal Agent Orange Product Liability litigation.
Mr. Feinberg is the managing partner of Feinberg Rozen, LLP. He is a former Assistant United States Attorney in the Southern District of New York and served as Administrative Assistant to Senator Edward M. Kennedy. Mr. Feinberg has taught at the Georgetown University Law Center, University of Pennsylvania Law School, New York University School of Law, the University of Virginia Law School and Columbia Law School. He has also taught as a visiting lecturer at UCLA Law School, Vanderbilt Law School, New York Law School and Duke Law School.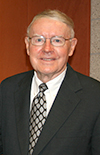 About Judge Lloyd D. George
Judge Lloyd D. George was appointed United States District Judge for the District of Nevada by President Ronald Reagan in May 1984. He served as Chief United States District Judge from 1992 to 1997, and assumed senior status in December 1997.
Judge George was a pilot in the United States Air Force. He received his bachelor of science degree in 1955 from Brigham Young University, and his J.D. degree in 1961 from the University of California at Berkeley (Boalt Hall). Upon graduating, he returned to Las Vegas where he built a successful private practice.
---
Registration
This event is free and open to the public, but registration is required.
Parking
For information about parking at UNLV, click here.