When
Sunday, November 6, 2011 -
Where
UNLV Artemus W. Ham Hall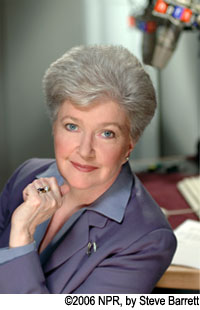 The Saltman Center for Conflict Resolution at the William S. Boyd School of Law presents "Cooling the Partisan Fires."
Linda Wertheimer, senior national correspondent for National Public Radio, gave the Saltman Center's annual Peace in the Desert™ lecture on Nov. 6, 2011 in UNLV's Artemus Ham Hall. Her talk focused on the conflict—and at times, the downright hatred—Americans are feeling between one another and their government. As a veteran observer of politics for many years and a news anchor for 10 presidential elections, Wertheimer was able to discuss the role of partisanship in politics over the last 40 years, how today's version compares to other eras, and how the public might possibly affect that role.
Sunday, November 6, 2011
1:00 p.m.
UNLV Artemus W. Ham Concert Hall
Free and open to the public.
For more information, call (702) 895-2428.
Flyer: PDF
Postcard: PDF
Special thanks to


Photos: View photos of the event here.
Media Links:
October 2011
Desert Companion - Meet in the middle
NPR's Linda Wertheimer on Tea Parties, missing Tip O'Neill and why we can't all just get along
November 2, 2011
KNPR's State of Nevada - The Partisan Divide in American politics
Partisan gridlock has become a way of life in Washington. The Senate holds meaningless votes as each side tries to trap the other into some damaging vote on taxes or Medicare that can be used as ammunition in the next campaign. The House of Representatives passes bills that the Senate won't discuss and the President would veto if they ever made it to his desk.
November 6, 2011
UNLV Calendar - Lecture: Linda Wertheimer, National Public Radio